1/10 Scale Radio Controlled Electric Powered 4WD FAZER Mk2 FZ02 VE Series Readyset 1969 Chevy® Camaro® Z/28 RS Supercharged VE Tuxedo Black 34493T1
Even more speed with brushless motor!With its muscular body and supercharger, this machine makes a visual statement to back up its powerful performance!
Designed and built for the pure enjoyment of R/C car driving, the FAZER Mk2 welcomes this brushless motor addition to the series. Powering up from the conventional G14L brushed motor to the TORX 10E brushless motor, the 1.6 x speed boost delivers 65km/h (up from about 40 km/h) backed up by the newly incorporated BRAINZ 10 speed controller, sintered pinion gear and aluminum HD center shaft S (previously an optional upgrade) to support the extra power and higher RPMs. This fully upgraded version of the VE specifications boasts an ultra-scale 1969 Chevy® Camaro® Z/28 RS body much loved in America, with a Kyosho designed supercharger, and features light buckets that can be equipped with front and rear LEDs and open/close function for concealed headlights. Kyosho's original color scheme pays homage to the rebel image of this machine and this 1969 Chevy® Camaro® Z/28 RS is packaged as a pre-built Readyset, so its easy even for beginners to enjoy without delay. Just use your own battery, battery charger and transmitter to experience the first brushless motor-powered model in the VE series!
● Ultra-scale body specifications feature concealed headlights with manual open/close function and a Kyosho designed supercharger. In addition, LED compatible headlights, front bumper and front grill.
● Elevate the scale finish by installing 97054 LED light unit series (sold separately) in the front and rear light buckets.
● Equipped with high-power TORX 10E motor. In addition, sintered pinion gear (32T) is equipped as standard to reliably transmit the full force from the motor.
● BRAINZ 10 60A ESC with cooling fan provides stable power without heat loss.
● Equipped with vintage touring car (VTC) tires with compound optimized for brushless performance, and new color Rostyle-type wheel design to match the classic style of the Dodge Charger.
● Aluminum center shaft prevents twist and delivers high-RPM drive. Shaft-driven full-time 4WD touring chassis provides easy handling and is a joy to drive for anyone.
● Includes advanced functioning KS4031-06W steering servo as standard.
● Factory-completed Readyset only requires 4 x AA batteries for the transmitter as well as a charger and battery for the chassis.
● Full ball bearing specifications reduce drive loss in all drive components.
● Sealed differential and transmission realize excellent reliability, even in dusty parking lots.
● Equipped with a plated dummy brake disc and painted brake caliper for an elevated sense of scale.
● Uses hexagonal button screws throughout. Allows secure tightening torque to be applied and maintenance with fewer tools.
● Motor mount has mounting holes according to pinion gear, eliminating the need for tricky backlash adjustment. Supports pinions from 29T to 37T.
● Wide range of optional parts are available to further boost driving performance.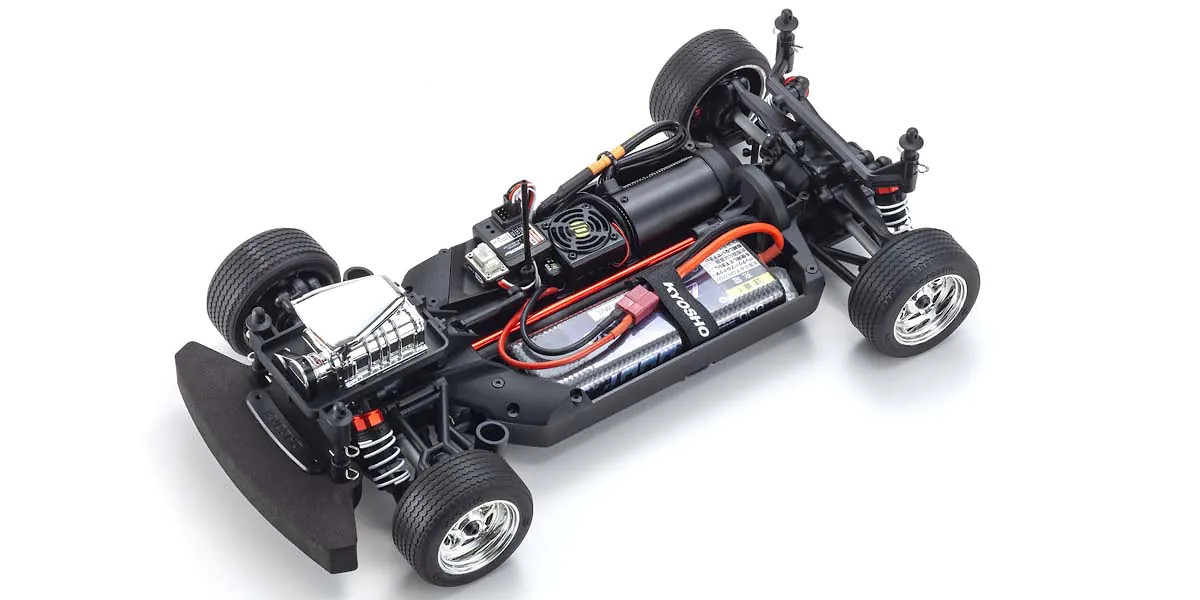 HD center shaft S is equipped as standard to prevent twisting and support high-speed performance. The simple and functional main chassis uses lightweight impact-resistant nylon to reduce weight and an integrated gearbox that optimizes torsional rigidity to deliver a low center of gravity. The simple upper-deckless design realizes strength through each component and section.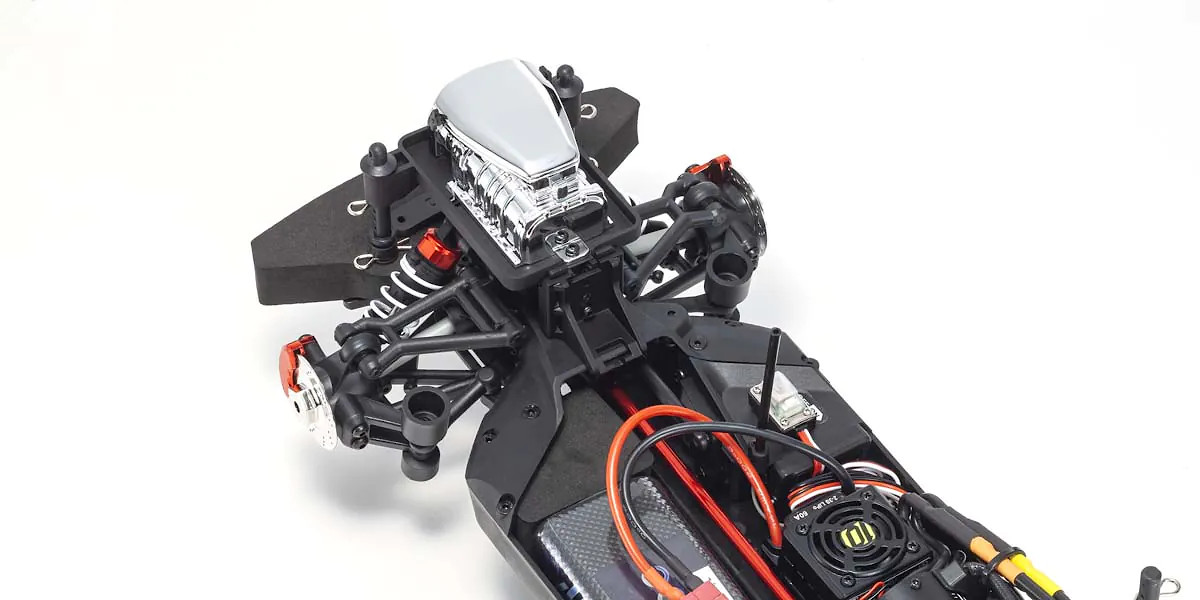 Equipped with the advanced functionality of the KS4031-06W steering servo. The front suspension optimizes bump steer and scrub radius for improved handling and features interchangeable front left and front right ball-connected steering knuckles that deliver smooth operation and high crash resistance.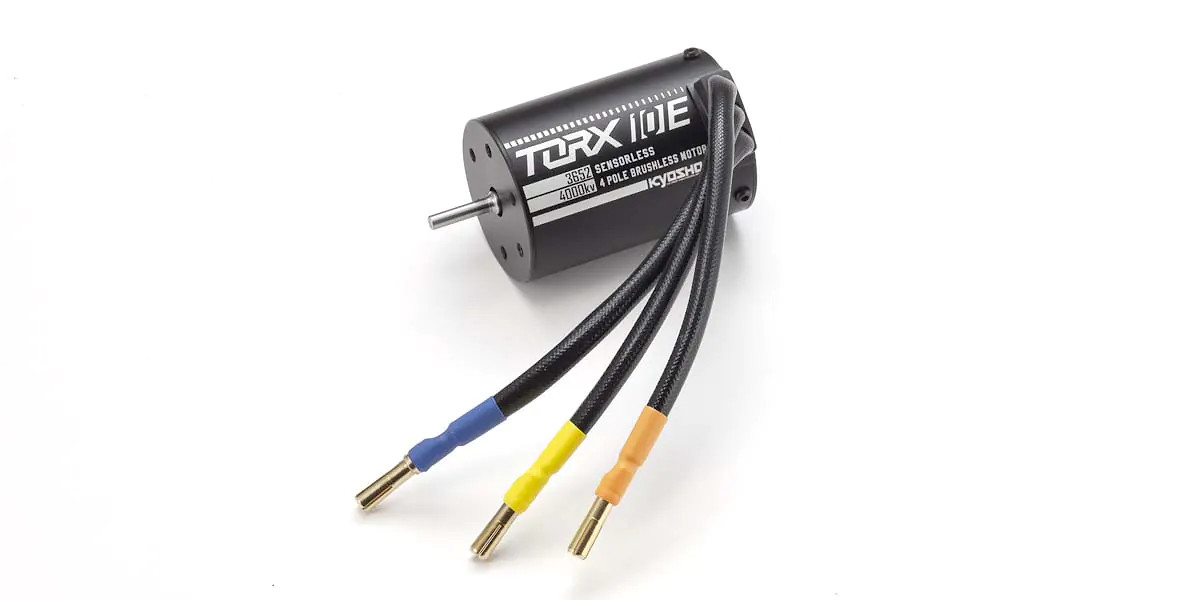 High-powered TORX 10E brushless motor. The sealed motor case prevents foreign objects from entering the motor and gearbox.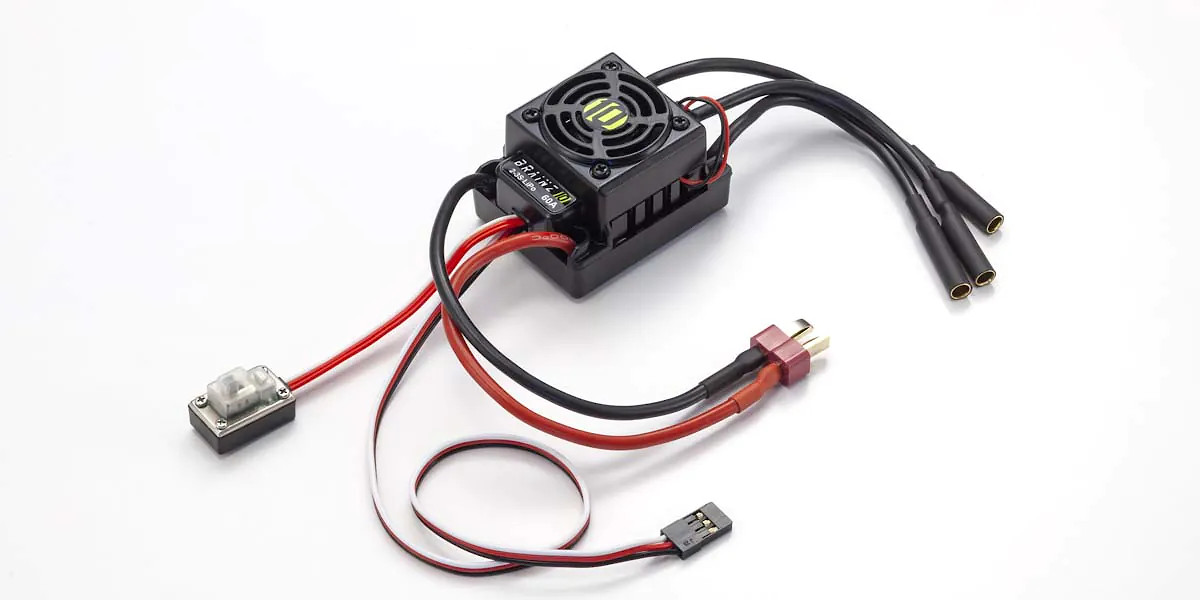 BRAINZ 10 speed controller with cooling fan for brushless motors. Program settings can be changed to suit different conditions and it's also waterproof so you can even run through the rain or small puddles.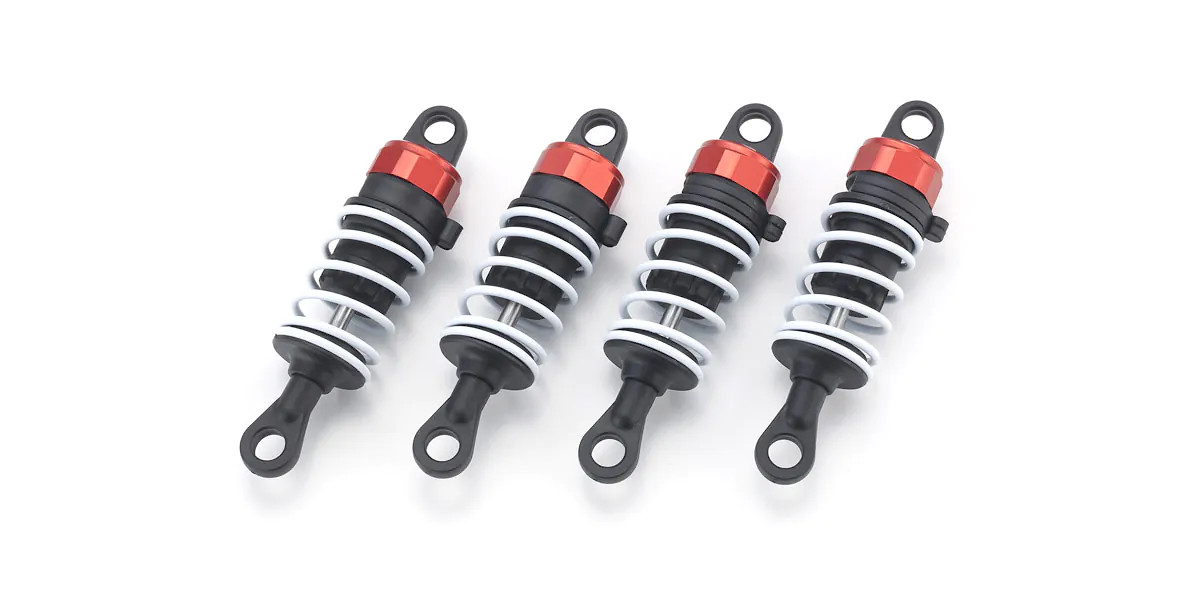 Equipped with oil shocks as standard. Vehicle height can be adjusted by changing the included ball ends and spring spacers according to the vehicle type and setting.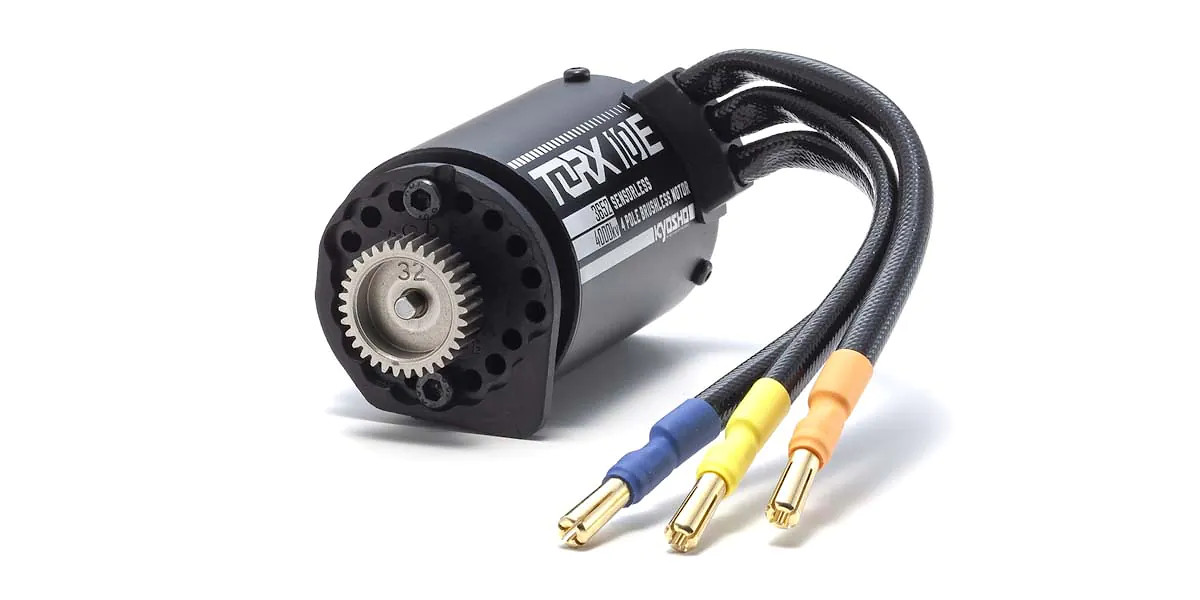 Sintered 32T pinion gear is equipped as standard for reliable transfer of the high-powered force from the brushless motor. 68T and 32T are standard settings for spur gears and pinion gears respectively, however a total of 9 pinion gear variations from 29T to 37T are available to suit various motors for a wide range of gear ratio settings. In addition, set positioning of the motor according to the number of teeth of the pinion gear reduces problems with backlash adjustment.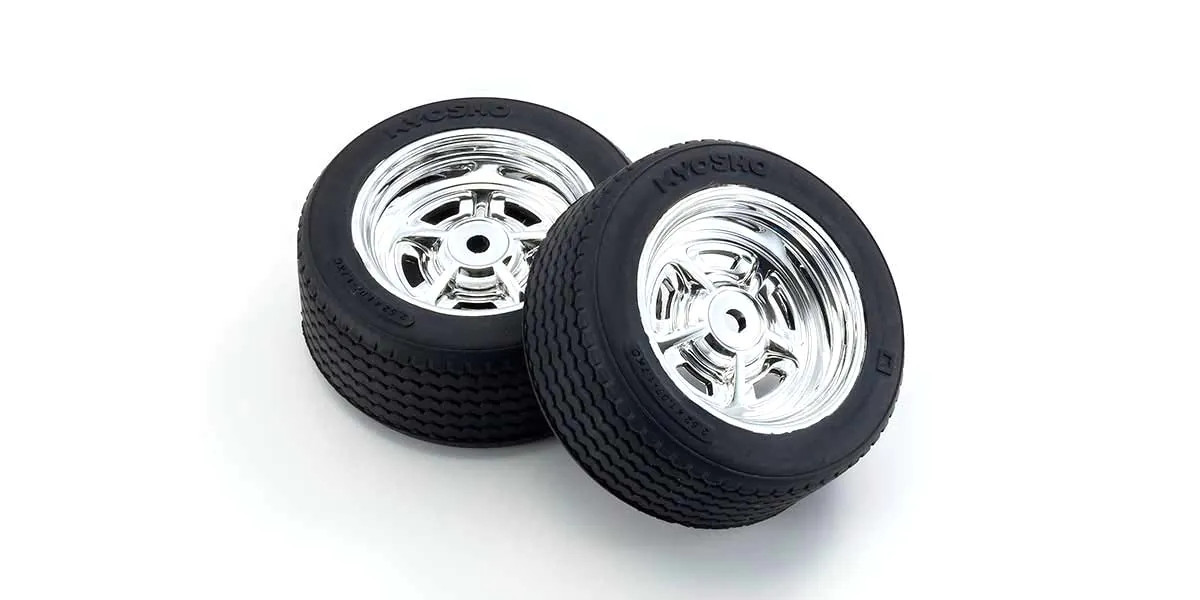 Features VTA tires with compound optimized for brushless motor performance in combination with new color Rostyle type wheels.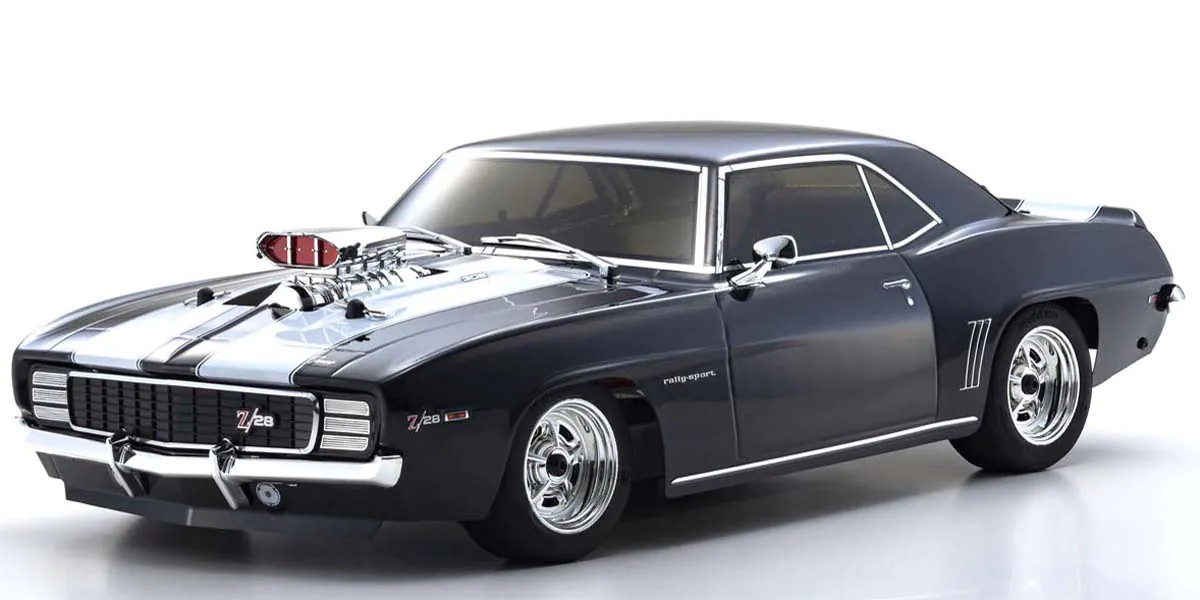 From its release, the Chevrolet Camaro model defined a new era of American Muscle. This 1969 Z/28RS embodied a 5000cc engine and was equipped with auxiliary lights and headlight covers for rally driving. This model features Kyosho's original supercharger to enhance its formidable appearance.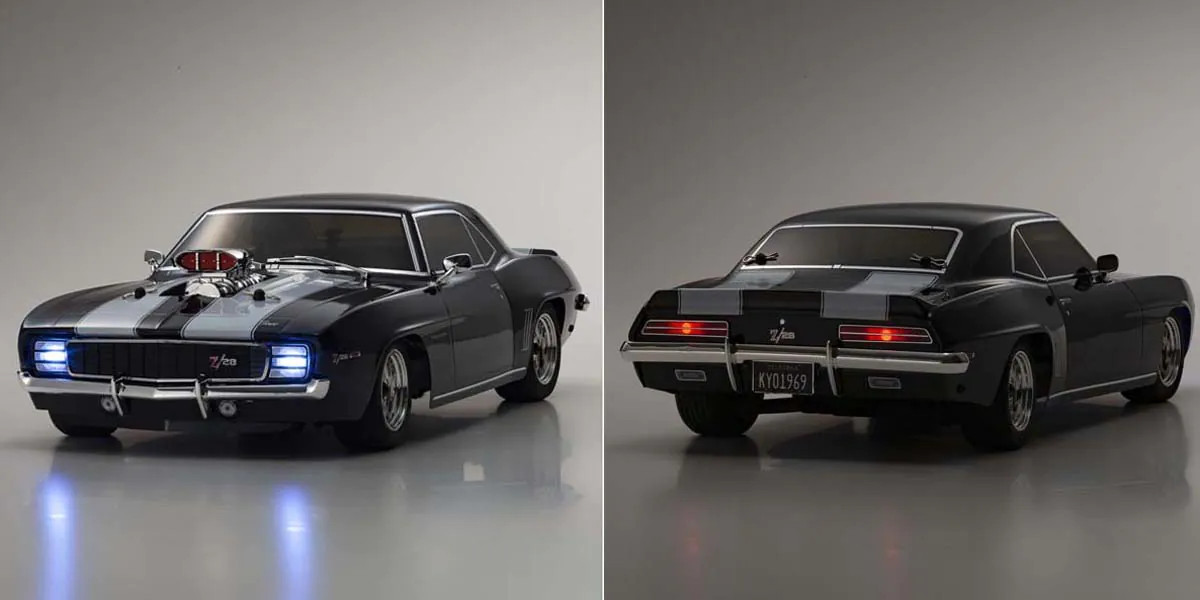 Front and rear light buckets are compatible with the 97054 LED light unit series (sold separately).
■Length 461mm
■Width (Body width * excluding mirror) 210mm
■Height 138mm
■Chassis Height 15mm(approx.)
■Wheelbase 260mm
■Tread (F/R) 167mm
■Tires (F/R) Fφ64×27.7mm
■Gear Ratio 6.54:1
■Weight 1610g (approx.)
■R/C system Syncro KT-231P+
■Motor TORX10E
●Completed chassis with R/C radio installed
●Factory assembled body complete with color scheme
●Syncro KT-231P+ transmitter
●Hexagonal wrench
●Spanner
●Setting change parts
<Required for Operation>
●4 x AA batteries for transmitter
●Battery for chassis (recommended: 7.2V Ni-MH battery)
●Charger for battery for chassis
●Tools