1:10 Scale Radio Controlled Electric Powered 4WD FAZER Mk2 FZ02L-BT readyset MAD VAN Color Type2 34412T2
Unique visuals of this American full-size van
deliver excellent backroad driving performance
*The body is designed in the image of the American full size of the 1970s and 1980s, and the body color is metallic purple, which is still popular in the United States.
*Includes decals that allow you to change the front grille / coloring and a separate roof spoiler made of polycarbonate that enhances driving performance, allowing customers to customize it to their liking.
*The main chassis uses a lightweight, highly rigid glass-reinforced 66 nylon resin bathtub model..
*66 nylon is used for the suspension arms. Achieves a good balance between flexibility to absorb impact and rigidity around the tires.
*Equipped with bevel gear type differential gears on the front and rear. Ensuring smooth turning when cornering.
*Full ball bearing specifications minimize drive loss.
*Comes with the new powerful 550 size 14T brushed motor(G14L). The long can with Steel ring around the motor case and internal cooling fan provides efficient torque and high speeds.
*The front and rear suspensions are equipped with a 12mm diameter big bore oil damper. Achieves stable driving by absorbing the impact from the road surface during off-road driving.
*Ball connect type kingpins are used on the front knuckle arm up and lower. The caster angle can be easily changed in 3 steps by moving the front upper suspension arm position back and forth with a spacer.
*The front and rear knuckle arms and suspension arms are shared on the left and right. Increase compatibility of spare parts.
*Since the motor mount has mounting holes according to the pinion gear, troublesome backlash adjustment is unnecessary. Supports from 29T to 37T.
*ESC adopts waterproof 60A "KA060-91W" with reverse. It is also possible to switch between NIMH and LiPo batteries. (Factory default setting to LiPo mode)
*A 20T pinion gear and a 76T spur gear are used for the primary acceleration. Demonstrates torque corresponding to large diameter tires. Equipped with a slipper clutch as standard to protect the gear from any impact.
*A soft compound is used for large-diameter monster truck tires and equipped with an inner sponge. Provides good grip both on and off.
*Uses hex screws in each part. Reliable tightening torque can be applied, and maintenance is possible with even fewer tools.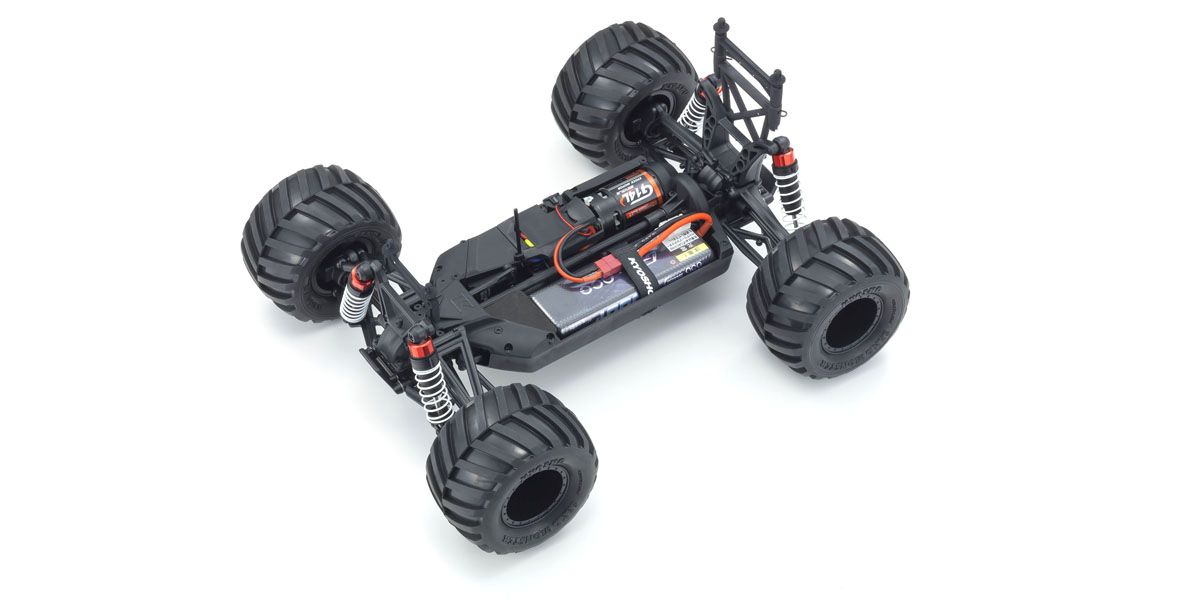 Simple design of the low C of G FZ02L-BT chassis features a covered speed controller and receiver. The one-piece gearbox on the main chassis optimizes torsional rigidity and is made from shock-resistant lightweight nylon. Key components deliver structural strength to realize a simple upper deckless design.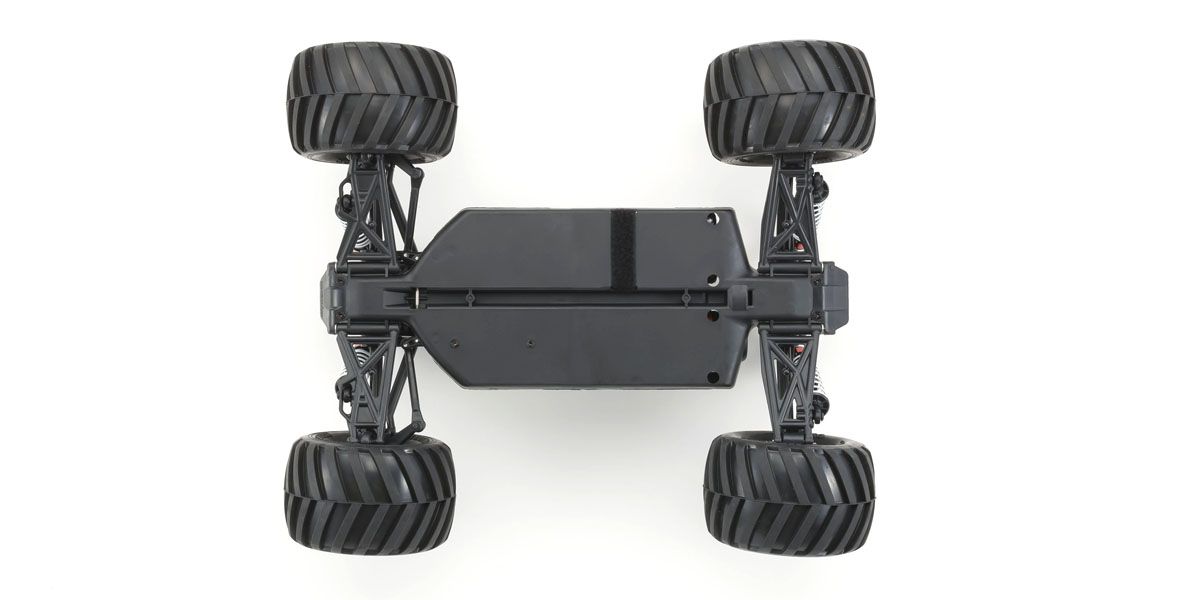 Reduced number of parts and consistency in size and type of screws means a 2.0mm hex wrench can be used for nearly all flathead screws. This allows easier assembly and disassembly for maintenance.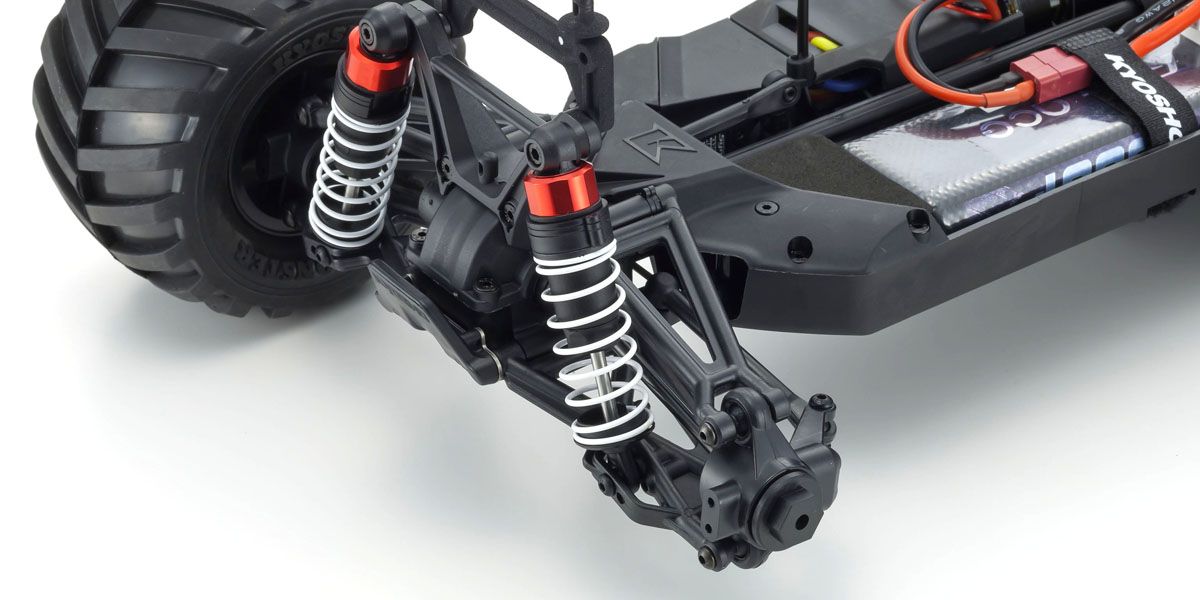 Front suspension features optimized bump steer and scrub radius combined with reliable ball-connect steering knuckles. Front-rear and left-right interchangeable hub carriers improve parts efficiency and maintenance.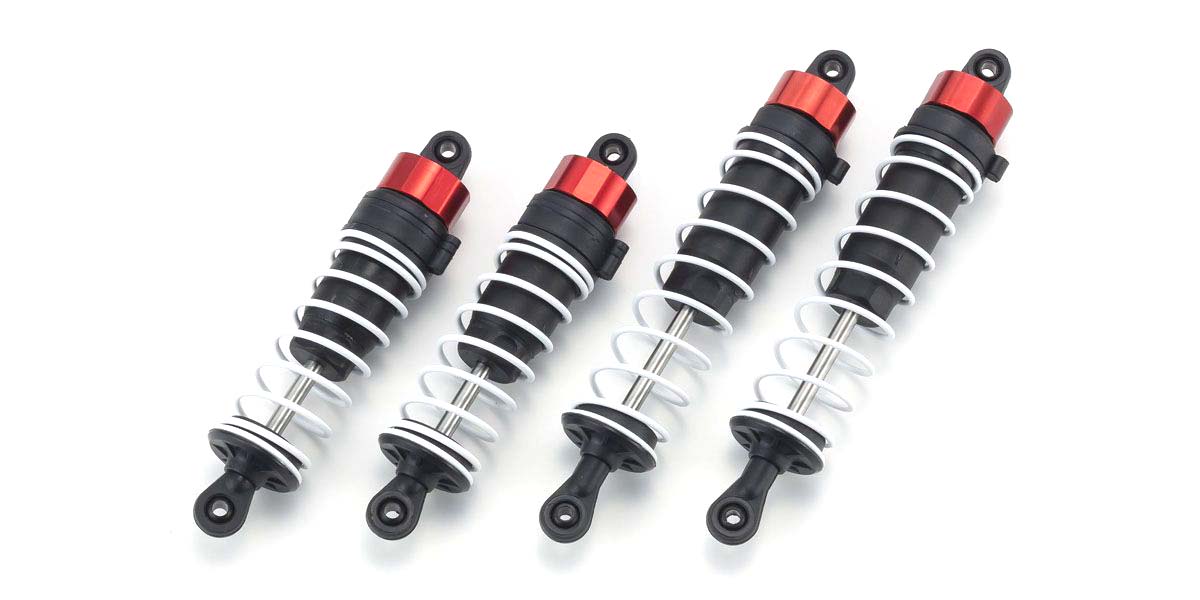 Oil shocks are equipped as standard and deliver stable performance in all conditions. Optimal front-rear geometrical balance realizes light handling and control stability.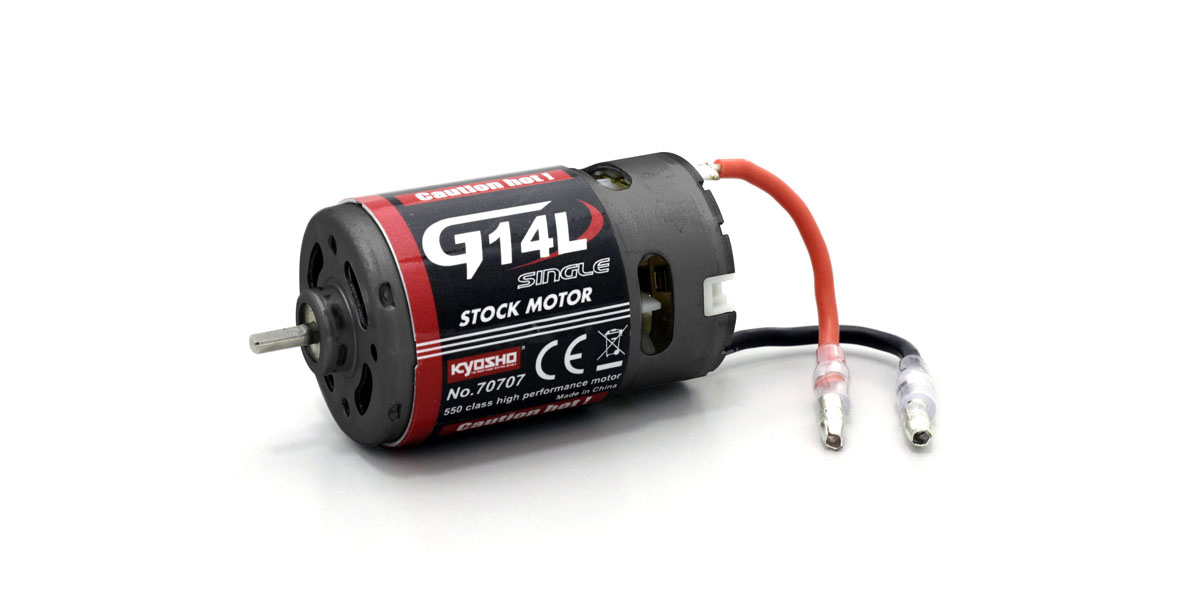 Equipped with long 550 size 14-turn brushed G14L motor that generates enough torque power for wheelies when the battery is fully charged so the fun of dynamic big-tire performance can be enjoyed to the full!
76T spur gear and 20T pinion gear are designed for optimal big-tire performance. Wide range of gear ratios can be used with pinion gears from 20T~29T to suit various motors. In addition, backlash adjustment is made easy by direct installation of the motor according to the number of pinion gear teeth.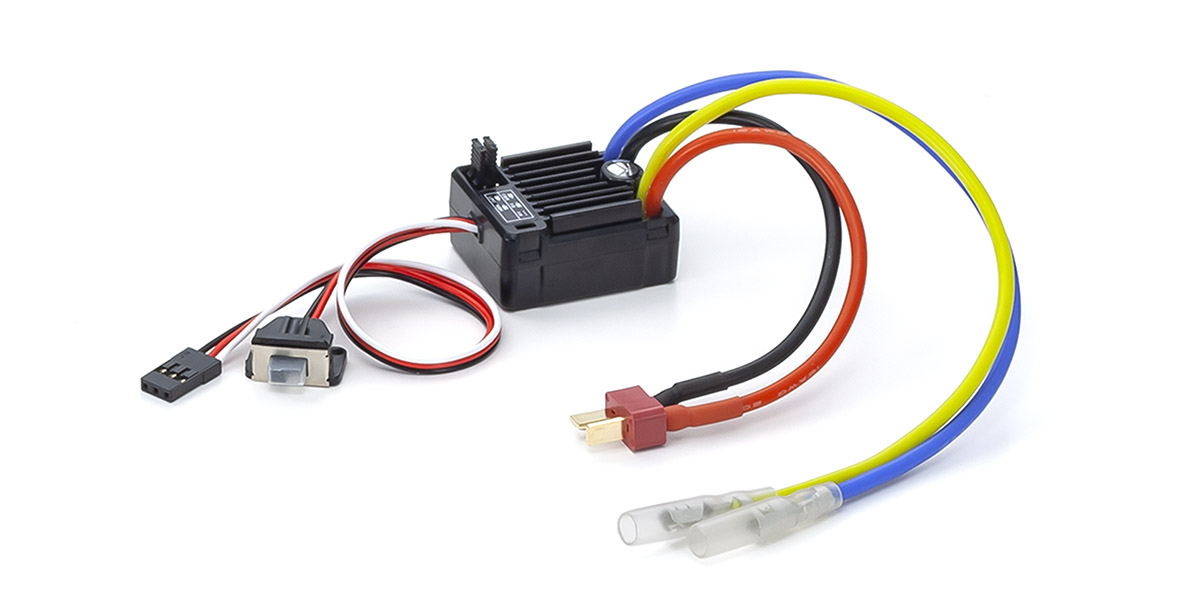 Includes large capacity KYOSHO SPEED HOUSE (KA060-91W) 60A speed controller with super plug (Deans) connector. Features three control modes: FWD/Brake/REV (default setting), FWD/Brake, and FWD/REV. Compatible with Li-Po battery (for safety, setting at time of shipment is Li-Po mode).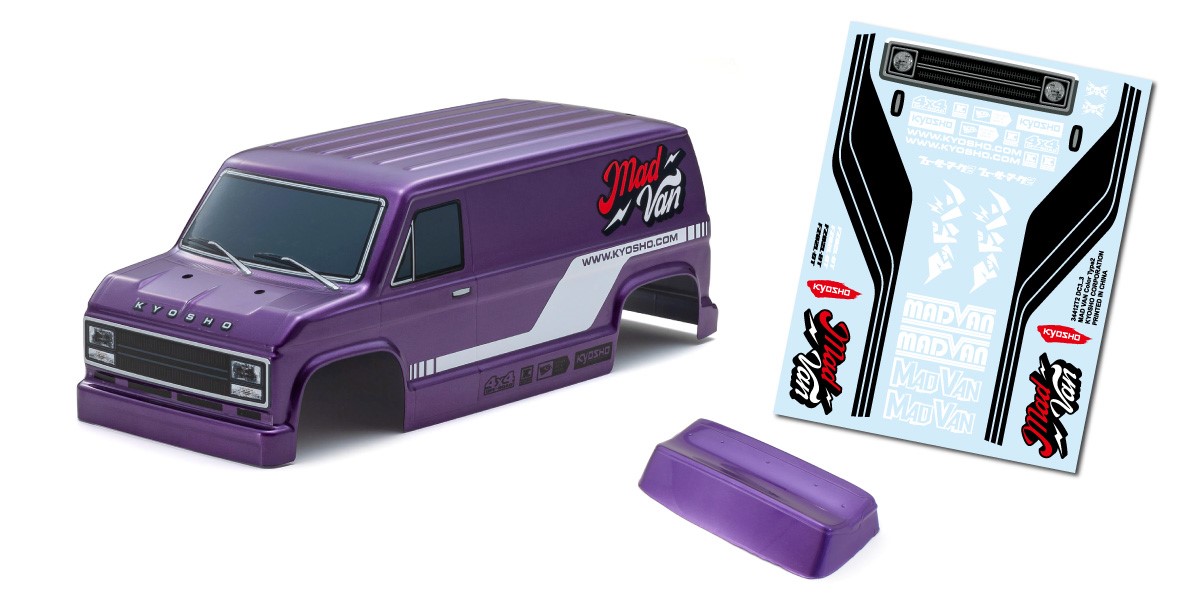 Angular shape of the molded polycarbonate body is designed in the image of an American full-size van style of the 1970-1980s. Large-diameter wide tires compliment the body design and deliver strong performance with the polycarbonate roof spoiler.Extra decal sheet included to customize body.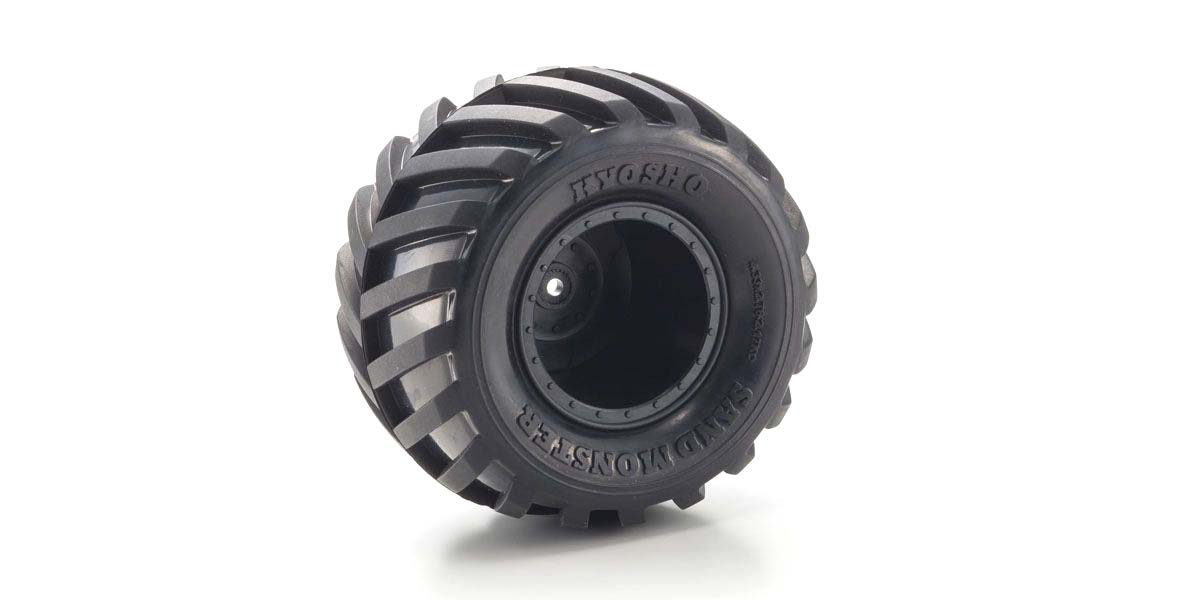 Soft compound large-diameter wide tires deliver excellent grip on a wide range of surfaces, from paved surfaces such as parking lots, to sand, dirt and even grass.
■Length 383mm(Including body)
■Width 323mm(Including body)
■Height 200mm(Including body)
■Wheelbase 274mm
■Tread (F/R) 250mm
■Tires (F/R) φ110×70mm
■Gear Ratio 11.69:1
■Motor G14L
■Weight 2,050g (approx.)(When using 7.2V3600 NiMH)

●Factory assembled chassis with built in R/C unit
●Factory finished body with decals applied
●Syncro KT–231P+ transmitter
●Hex wrench
●Integrated spanner
●Setting change parts

●4 x AA batteries for transmitter
●Battery for chassis (recommended: 7.2V Ni-MH battery)
●Charger for battery for chassis
●Tools