1:12 Scale Radio Controlled Electric Powered 4WD Racing Car FANTOM FANTOM EP 4WD Ext CRC-II 30637
Amazing running agility! "FANTOM EP-4WD Ext" is the last reincarnation of the famous FANTOM EP form!
Two years after the seismic impact of the FANTOM EP-4WD's debut win, the "FANTOM EP-4WD Ext" stunned the world by achieving the same feat against an even more competitive field at the 1985 Japan Championship. Racing surface conditions at that time were improving and race formats changed from the fiery 4-minute races to 8-minute endurance races. The "FANTOM EP-4WD Ext" was developed to meet this trend. Kyosho was the first to introduce the chain + one-way 4WD system developed for 1/8 engine models into 1/12 electric racing cars. The front one-way system enabled power to be applied earlier through corners, allowing for more aggressive driving. On the other hand, energy efficiency didn't improve and it was prone to stalling when power was taken off. In the Ext, high-dimensional fusion of the 3P suspension reinforces weak points. 2.2mm suspension stroke is realized through specially shaped springs creating a "progressive spring effect" by compressing the suspension according to the roll amount of the chassis when entering a corner, and then extending from when it starts clipping too much to minimize stall when power is taken off. At the same time, energy efficiency is improved by reducing the time power is ON. The main chassis has been enhanced with an evolved front suspension to deliver increased rigidity from a reinforcing plate on the front that allows optimal movement of the suspension. Incorporating the direct servo saver into the steering servo increases the front load, allowing the chassis to be shaped so that the rear rolls and pitches flexibly in sync with the front. Oil damper is added for pitching control to improve the ground contact of the rear. When first developed, the Ext was focused on weight reduction and its 880g was lighter than the first generation. The commitment to light weight remains in this relaunched version with the inclusion of lightweight knuckle arms and wheel nuts. Please enjoy this modernized version of Kyosho's timeless classic, the "FANTOM EP-4WD Ext", which is the 11th model in the vintage series.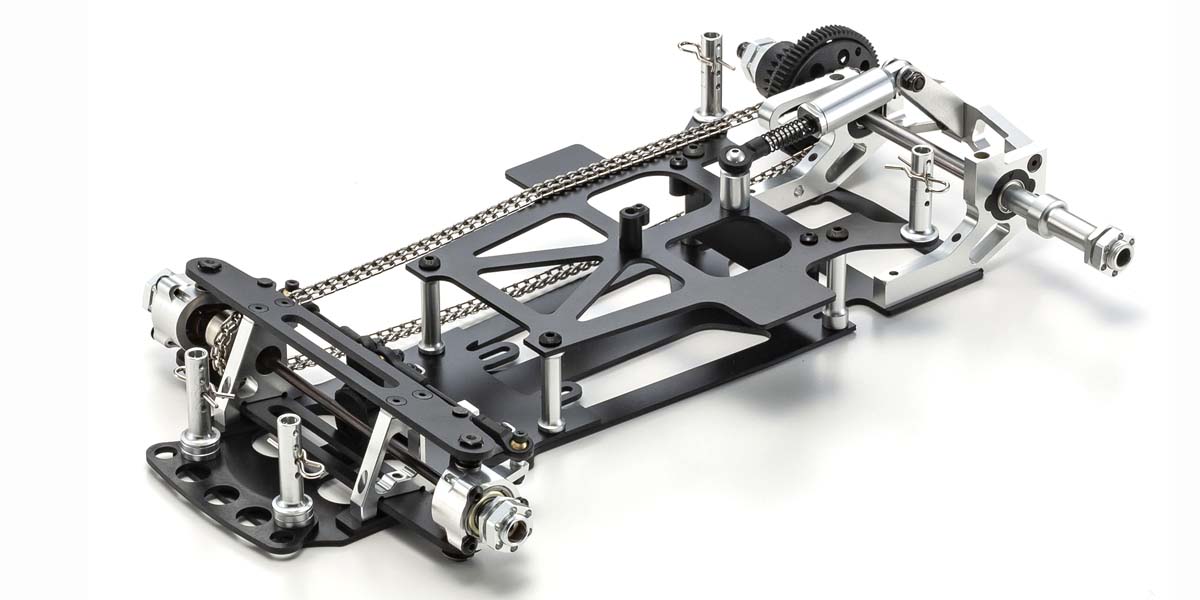 The FANTOM was the first electric R/C car in the world to adopt the ladder chain + front one-way bearing drive system, and in combination with an integrated 3P suspension system, delivered superior cornering speed and driving agility.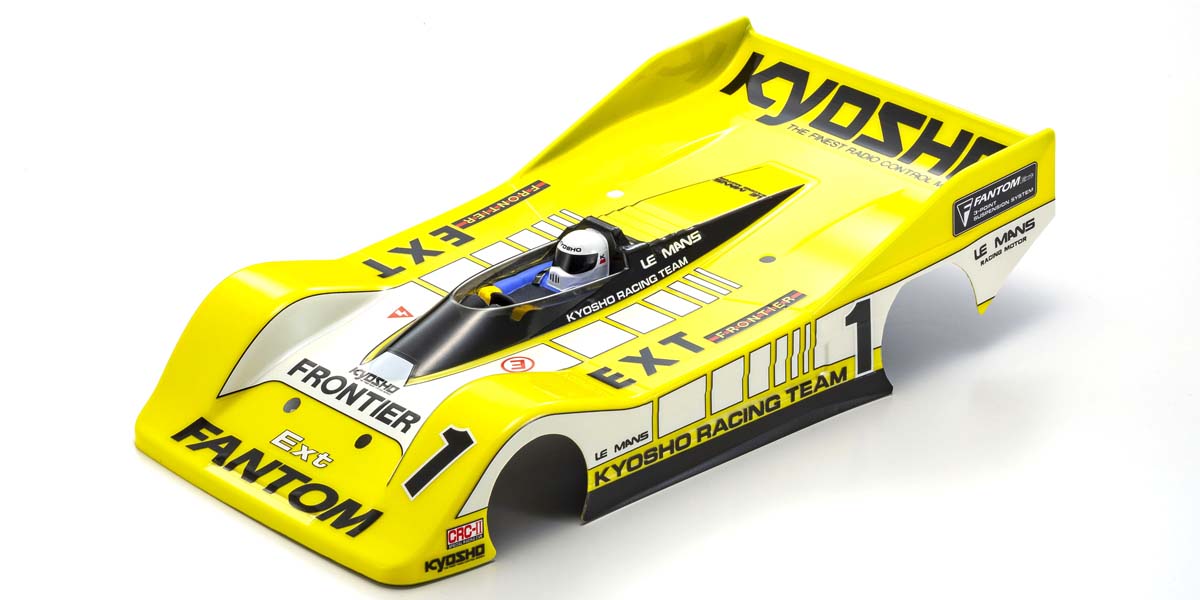 The CRC-2 body and its reputation for excellent aerodynamic performance has been faithfully reproduced. The long front overhang and full-body wedge produces handling stability with minimal aerodynamic variation due to speed. Includes decals to recreate the model on the package.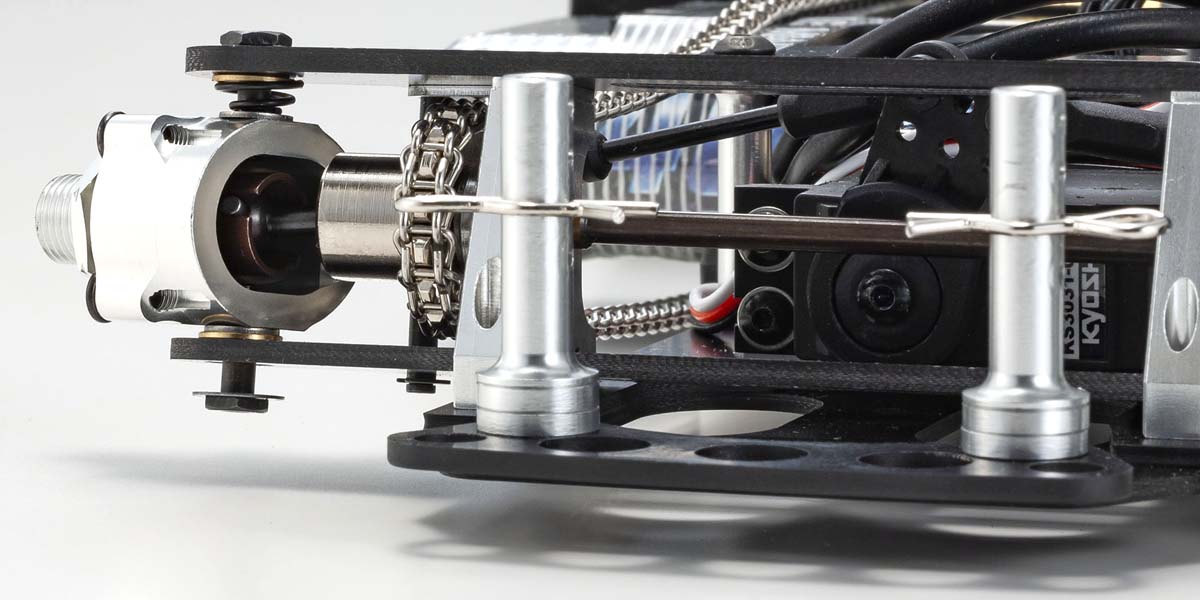 Special spring produces a progressive suspension effect that changes according to the amount of roll and ensures suspension stroke, even in a small space. New front sprocket, special swing shaft (right only) and lightweight knuckle arm, deliver maximum steering angle.Compatible with optional carbon suspension arm (No.EFW005).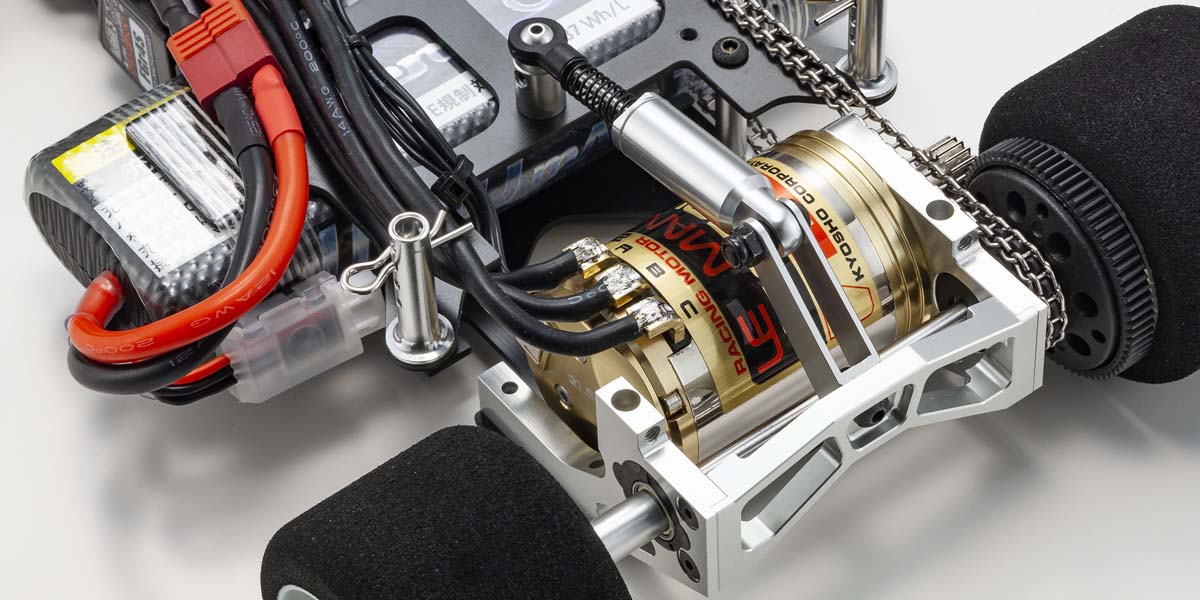 Chassis is shaped to deliver rear suspension effect. Newly designed oil damper is equipped along the pitch direction and features a 2mm shaft to minimize changes in oil volume during stroke and ensure sufficient damping effect. High-precision CNC machined 3-piece motor mount and damper stay with oil damper produce reliable operation.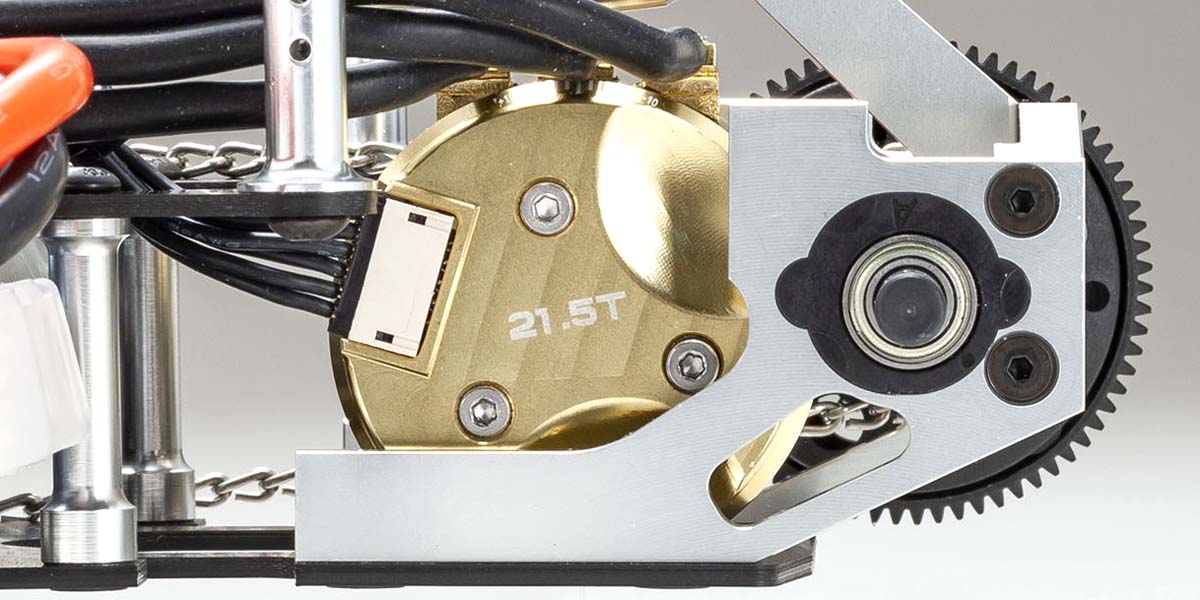 Moving the height adjuster in the rear axle up, down, left and right, allows the vehicle height to be changed 1.3 mm and the wheelbase to be changed by 1 mm (also adjusting the chain tension). Originally an optional setting, the motor mounting position is lowered to the same position as the machine-cut motor mount to produce a lower center of gravity.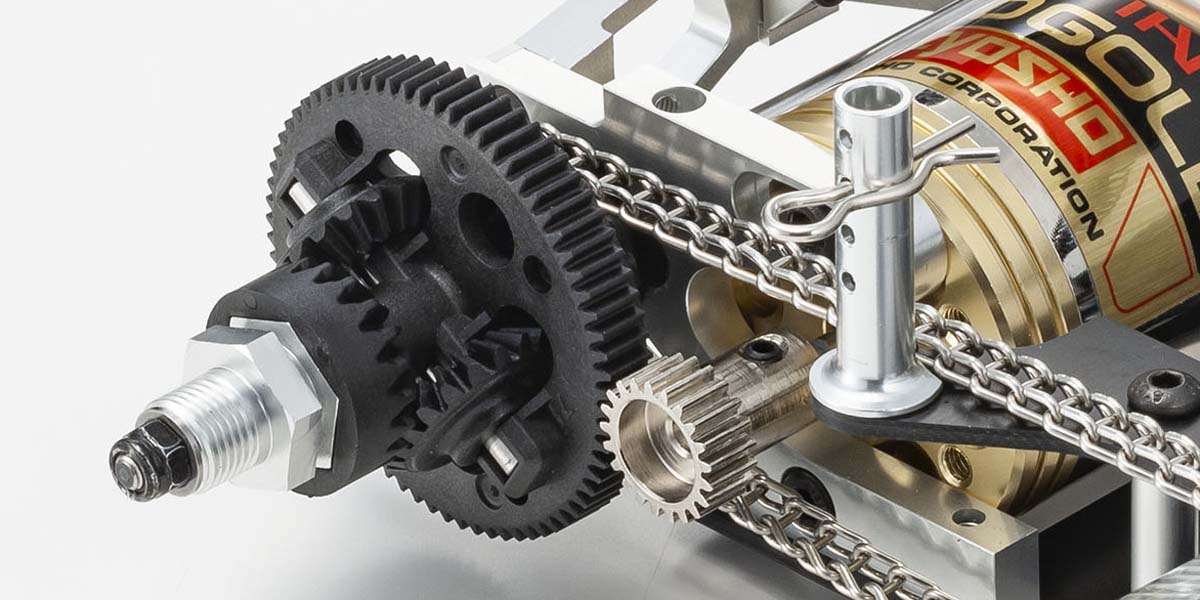 A new long-type 48 pitch 21T pinion gear with newly designed differential is fully equipped with ball bearings to realize smooth operation. Optional 16T to 27T pinion gears are also available for a wide range of settings. Compatible with No.PNGS4816-4827 / No.W0118Z-W0119Z Lightweight Carbon Gear Differential Axle (No. EFW002).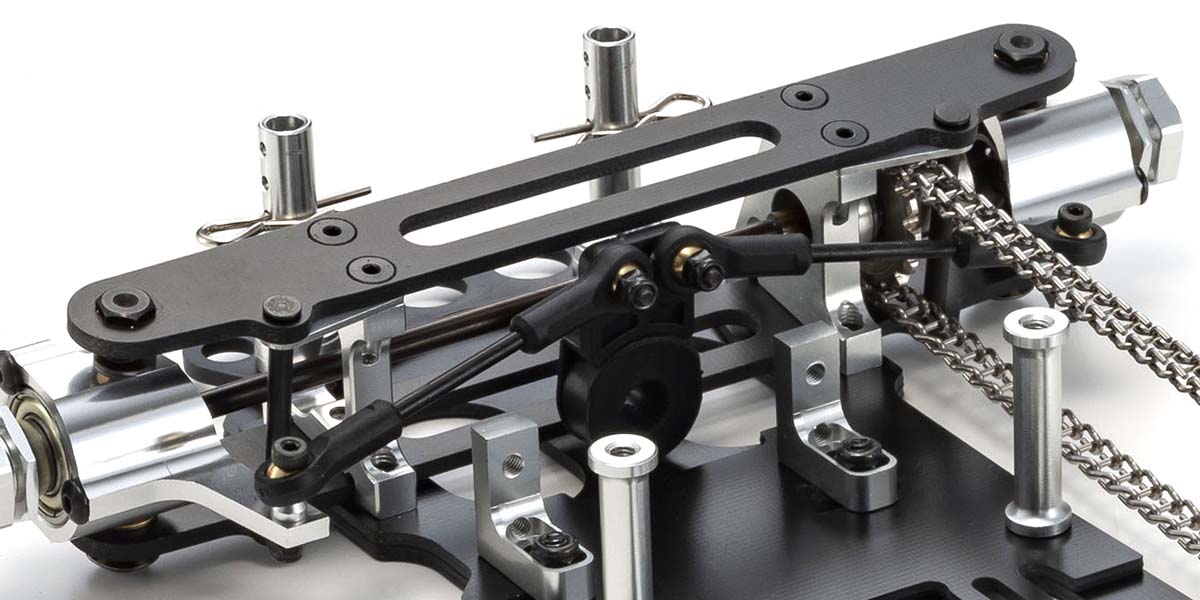 CNC processing improves the precision of all FRP parts that were originally press-processed. The 2-piece main chassis is equipped with mounting holes for the Le Mans 240S speed controller. The newly designed CNC machined aluminum servo mount is compatible with most mini servos for cars and incorporates a newly designed direct servo saver with double ring springs to ensure durability and accuracy.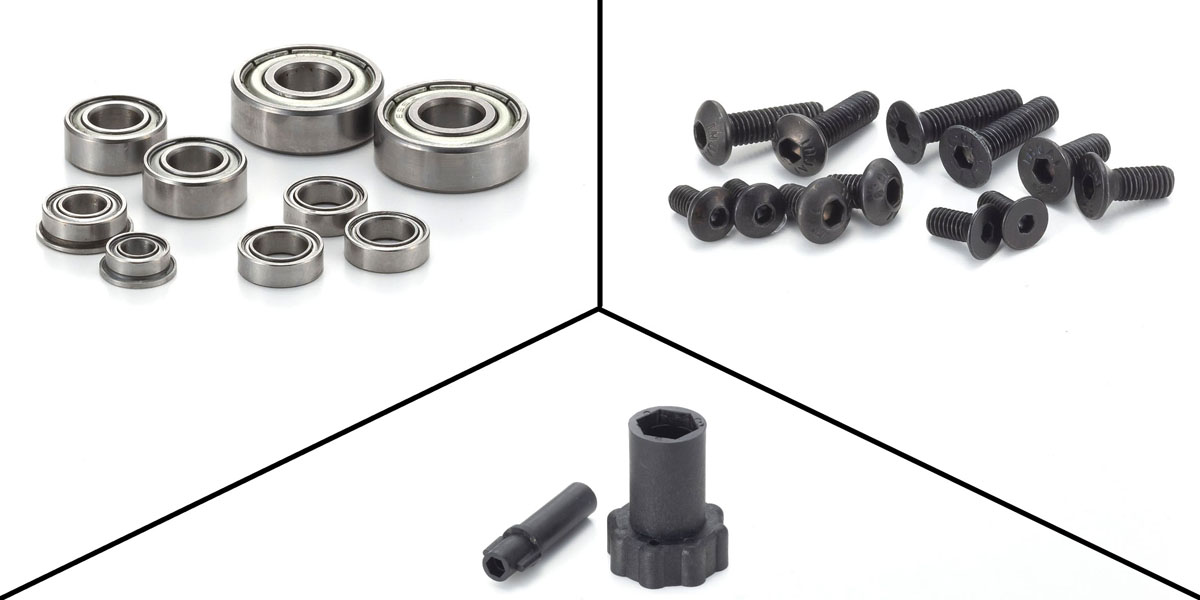 Full bearing specifications. Hex screws throughout ensure greater integrity of screw tightness. Includes wrench for wheel hub and differential adjustment. (12 / 5.5 / 4.5 / 4mm) Special damper wrench is also included.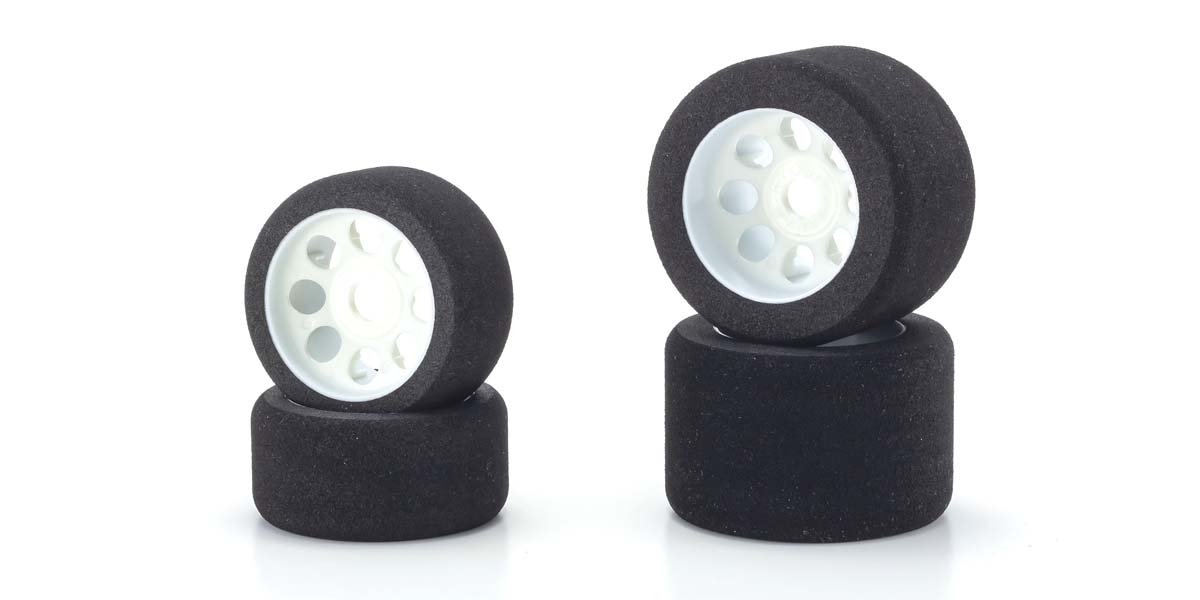 Includes pre-formed and glued tires that do not require a tire setter. Front: φ48 / H38 ° Rear: φ53 / L25 ° Lightweight wheel nuts are used. Optional small diameter tires (pre-formed and glued tires / H = 38φ45mm / L = 25φ50mm) (No. EFTH 100W) are available.
Recreates the style and atmosphere from its debut in 1985, with a thorough modernization of each component.
FANTOM EP 4WD Ext faithfully reproduces the chassis design including its distinguishing 3P suspension and ladder chain + front one-way bearing 4WD system.
Features the same 3P suspension structure from the original with a specially shaped spring in the kingpin on the front plus machined aluminum oil damper on the rear for pitching control.
Unique shape of the main chassis exerts the same suspension effect due to torsion as the original design. A reinforcing plate is layered on the front for additional rigidity.
Redesigned for ESC compatibility in place of the rotary speed controller from the original, allowing brushless motor & ESC combination. Front plate features mounting holes for Le Mans 240S ESC.
Newly designed machine-cut aluminum steering servo mount provides adjustable mounting that corresponds to various sizes.
Newly designed direct servo saver with a double ring spring produces the spring rate to realize improved reliability and direct steering feel.
Machined aluminum rear axle features a height adjuster mechanism that was not available in the original. Vehicle height and chain tension can be adjusted.
Long-type 48 pitch 21T long-type pinion gear is included as standard. 14T to 27T are available in standard shape as options.
Front and rear tires have been changed from the original sponge to rubber-sponge compound on both front and rear, greatly improving grip and reducing tire wear, which was a problem at the time of the original.
Popular with competitive racers, the same CRC-II body design used by Junichi Koma for the FANTOM's 'win on debut' at the 1985 Japan Championship has been faithfully reproduced. Produces excellent aerodynamic balance.
Included decals and simple coloring can reproduce the style of the original package model. (The driver doll needs painting)
■Length 340mm
■Width 172mm
■Height 83mm
■Chassis type Chain drive4WD
■Wheelbase 199-200mm(Adjustable)
■Tread F:135mm/R:133mm
■TireF:φ48×23mm/R:φ53×35mm
■Gear ratio 3.38:1
■Weight approx.890g(with GAB4201)
■Motor 540class(both sold separately)
■Used propo 2ch 1servo 1ESC
■※Maximum Speed 55km/h (with Le Mans480T BL)
■※Driving Time approx.23minutes(with Le Mans480T BL)
※Depends on driving conditions
●Chassis kit
●Adhesive shaped tire
●Unpainted body
●Decal
●Wheel wrench(12/4.0)
●5.5/4.5wrench
●FRP shock wrench
●Radio transmitter with 2 channel, 1-servo(Receiving size:L37xW30xH16.5mm)
●1 Electronic speed controller (ESC size:38x31x23mm)
●540 Motor
●Battery for chassis(Battery size:138x48x24.5mm)
●Batteries for transmitter
●Charger for Battery
●Paint for body

Recommended product:No.82151X Noble NB4 4ch Tx/No.82151-04 Noble FGr4P Rx/No.37035 LE MANS 480GOLD Brushless Motor 21.5T/No.37051B LE MANS 240S ESC