1/8 GP 4WD INFERNO GT2 RACE SPEC 2020 Mercedes-AMG GT3 33019
The strongest GT ready set with the combination of KE25SP engine + 2.4GHz R/C system! While keeping all the main chassis components unchanged, the adoption of the front C of G type radio box from the MP9 uses optimal weight balance to increase grip and improve overall running performance. With aluminum parts anodized in Kyosho's signature gun metal, the GT2 presents a formidable racing image. Like other similar to other mid-range transmitters, the included Syncro 2.4GHz KT-331P transmitter automatically manages frequency bands and features LCD screen, jog dials, model selection (up to 15), endpoint adjustment, dual-rate and exponential settings. New servos deliver both high-torque and high-speed for superior control. Packaged as a Readyset, you can enjoy the power and performance of this big machine as soon as you buy it. ●Front center gravity type radio box improves running stability and safety. ●Includes Syncro KT-331P transmitter that allows precision setting adjustments. ●Newly equipped with high torque KS5031-09MW metal-geared servo. ●Equipped with resin chassis stiffener as standard. ●High-power output combination of KE25SP engine + polished muffler + manifold. ●3PC clutch included as standard. ●Long wheelbase contributes to excellent running stability and improved scale feel. ●Features dual disc brake system that delivers high fade resistance. ●Setting alignment can be adjusted with turnbuckle upper arms and tie rods. ●150cc fuel tank delivers long run times. ●34mm small flywheel realizes sharp throttle response. ●Torque rod installed on front/rear as standard. ●Features steel ring & pinion gear on front/rear diff. ●Full ball bearing specifications include 18 on drive train and 2 on clutch bell. ●Includes rear wing that deliver effective downforce.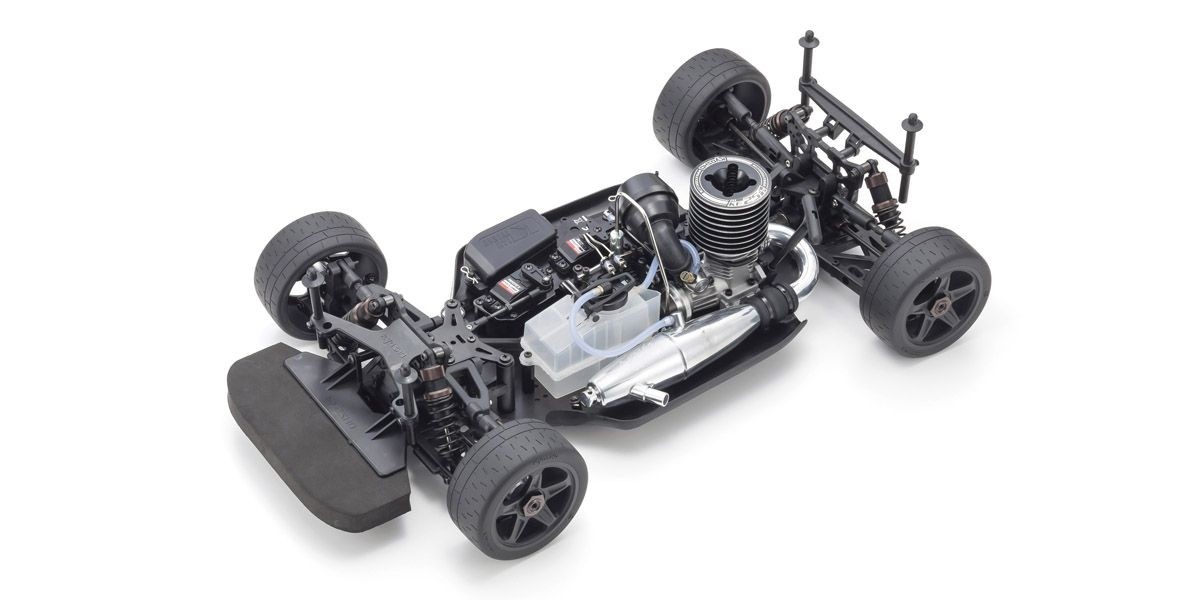 Front-weighted radio system layout proven in the Inferno MP9 1/8 buggy series delivers optimal weight balance for improved overall grip.Equipped with side guards for impact protection.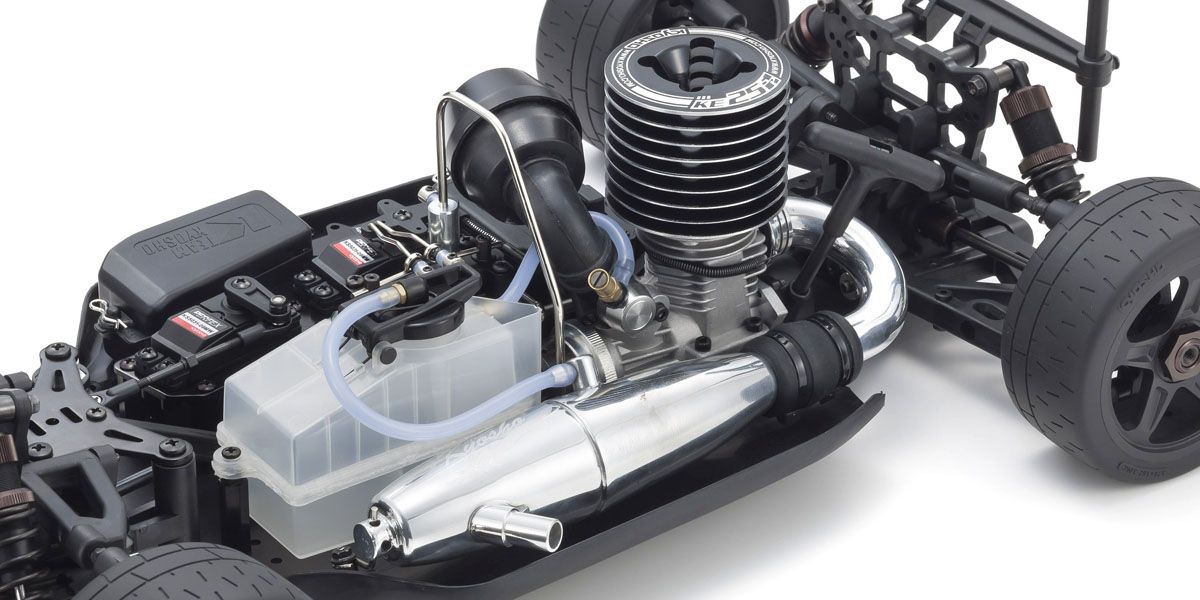 Optimal displacement of the KE25SP engine generates plenty of powerful drive energy. Premium grade polished muffler and manifold are included as standard.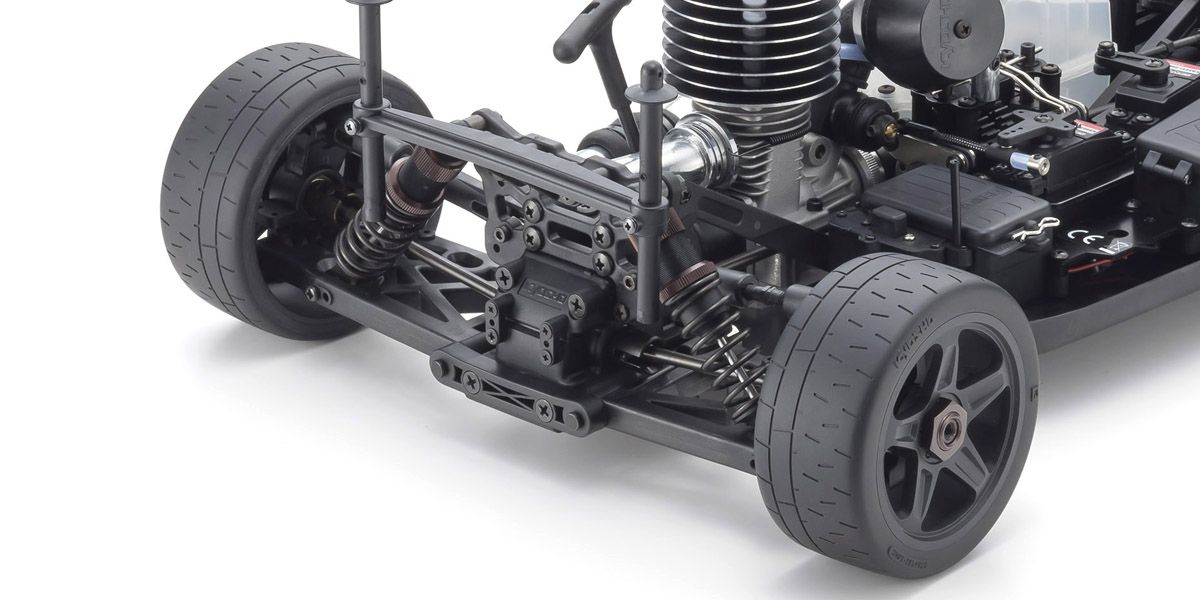 Inferno MP-7.5's superior suspension function has been optimized for on-road performance.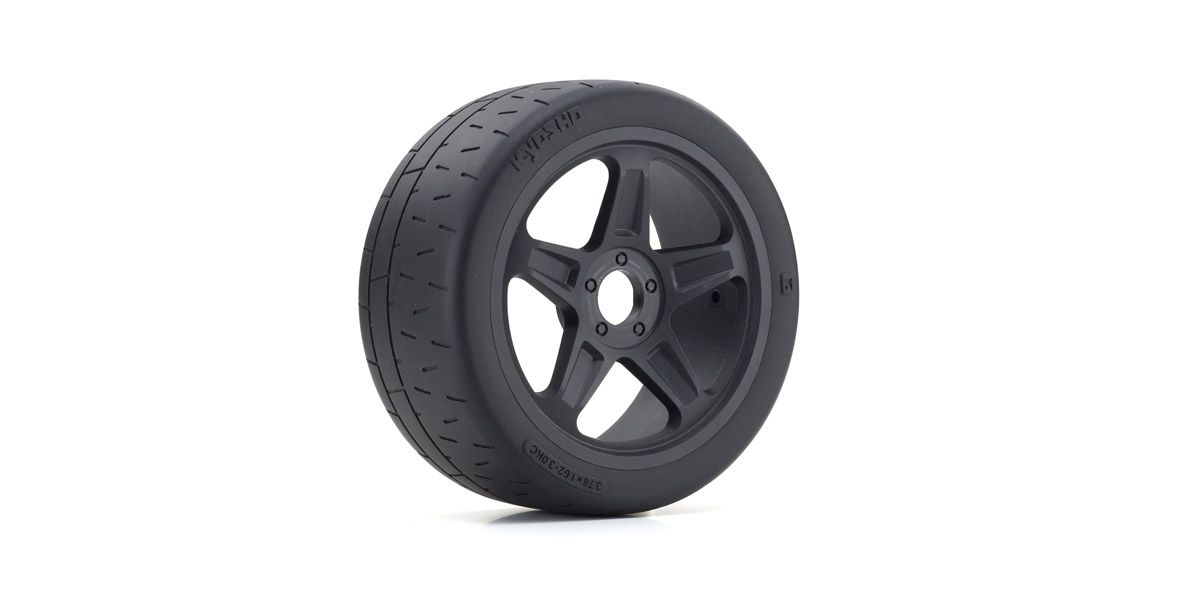 New detailed wheel design for true to scale appearance.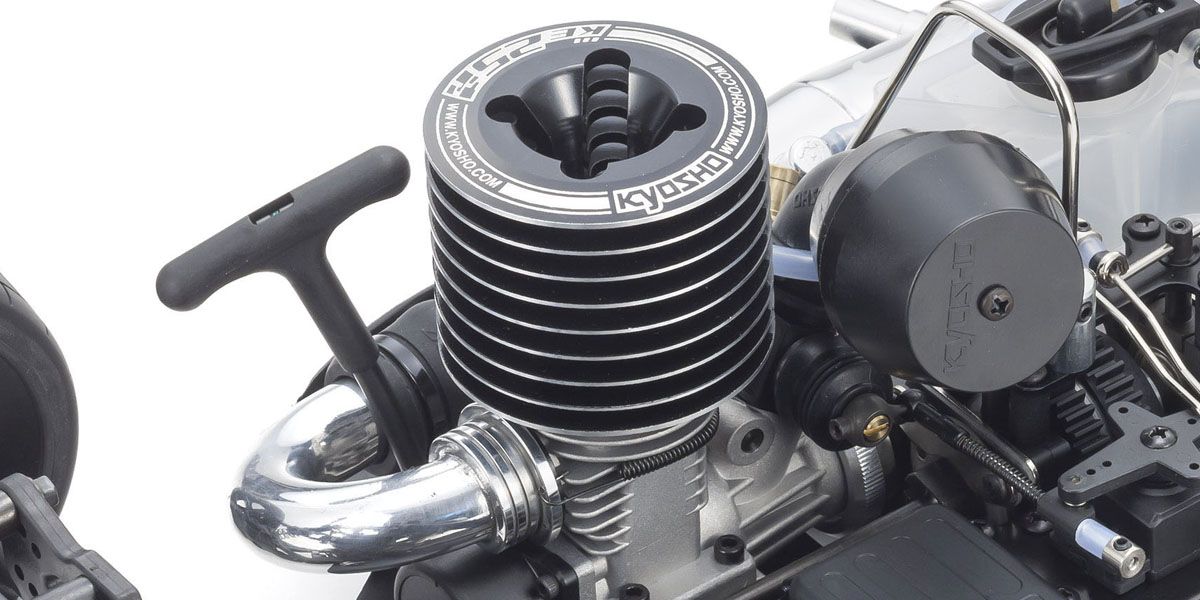 Includes the large capacity air cleaner. Maintains engine performance over long periods.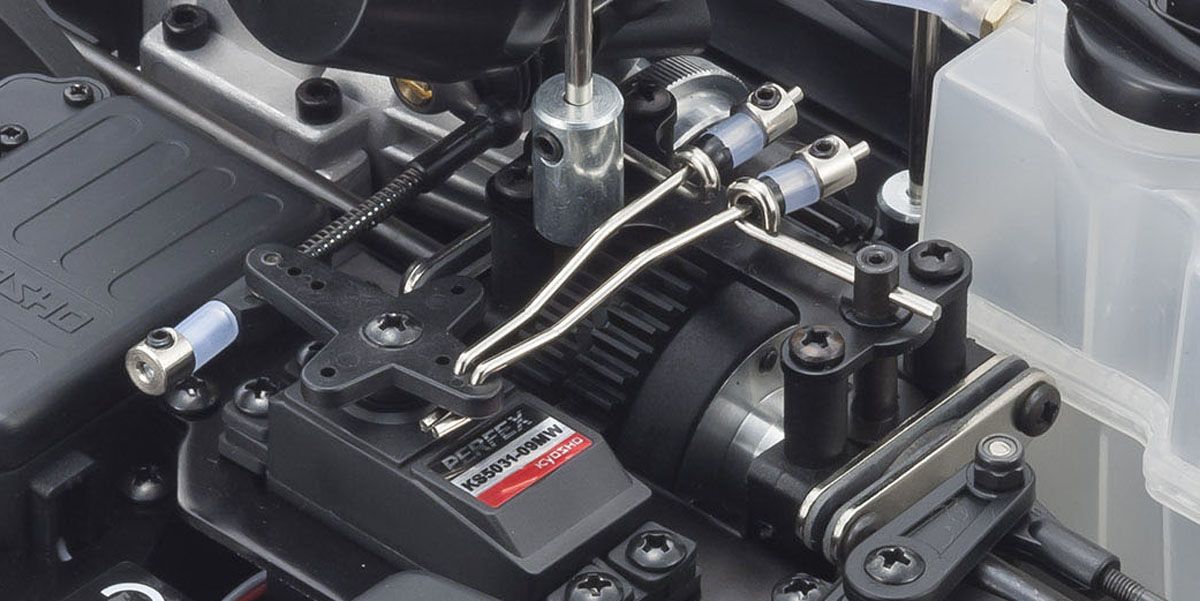 Front/rear independent disc brakes deliver reliable braking power. Thick brake discs minimize change in brake feeling from heat.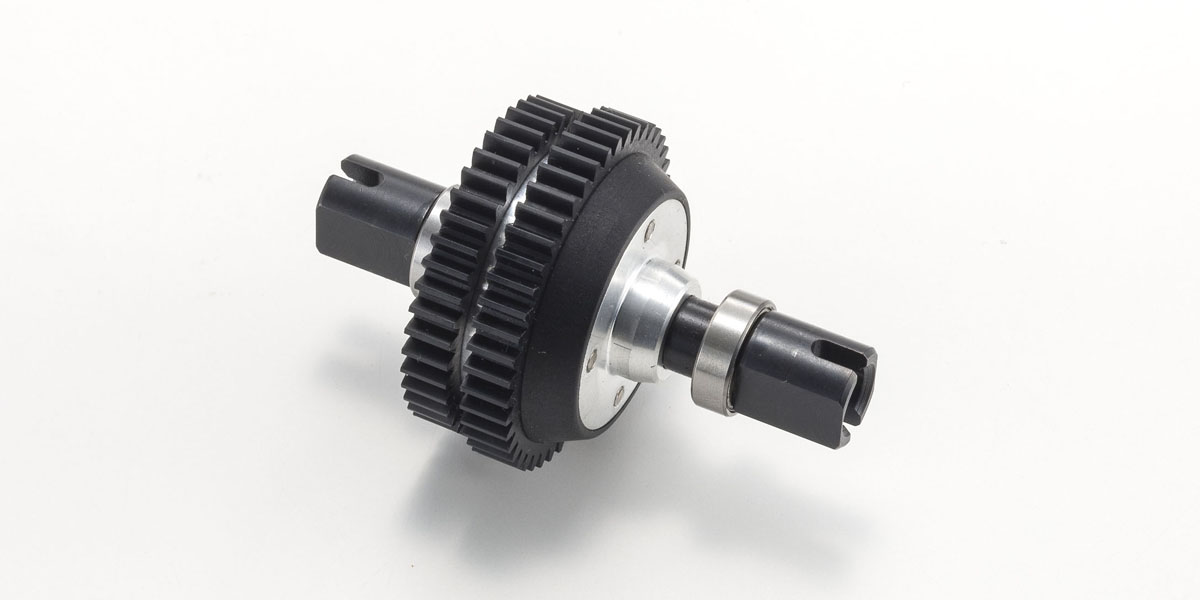 Engine's power band used to greater effect with the shoe-type 2-speed transmission using gear ratio 1st 10.14:1 and 2nd 7.49:1.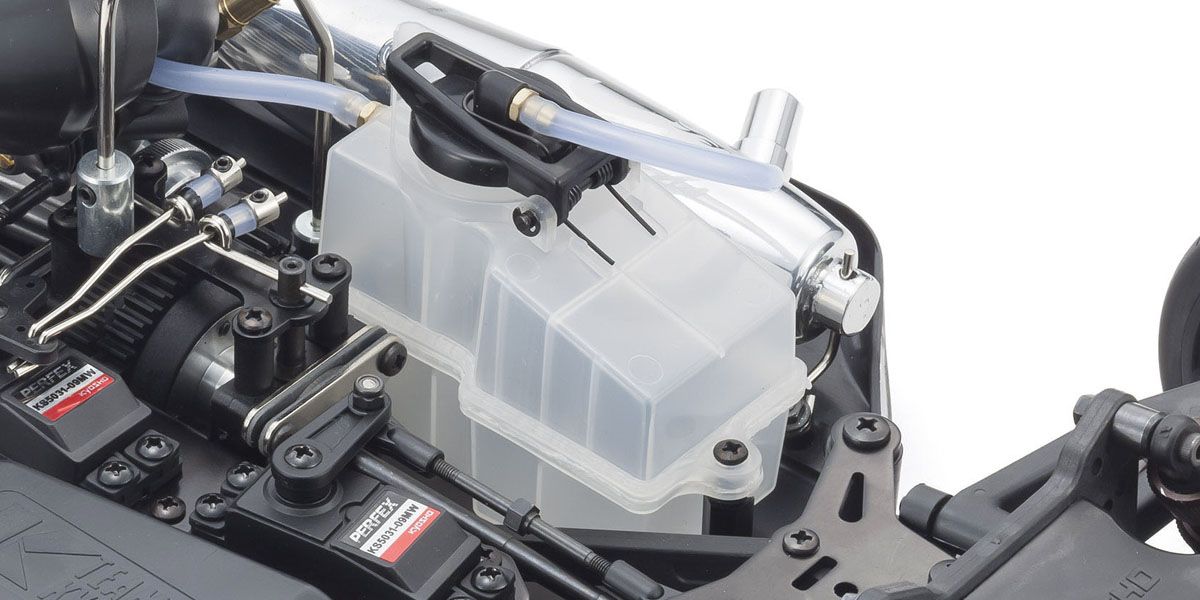 150cc fuel tank delivers about 10 minutes per tank without refueling.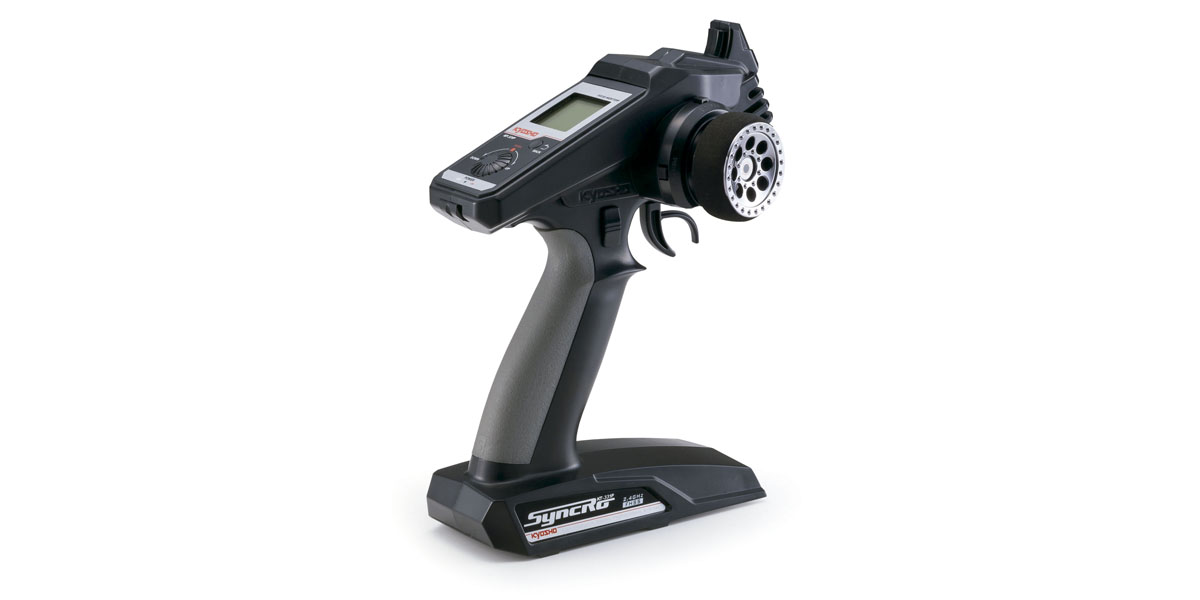 Syncro KT-331P transmitter provides excellent controllability with setting changes from the jog dials visible in real-time on the LCD screen.
■Length 515mm
■Width 310mm
■Height 135mm
■Wheelbase 360mm
■Tread(F/R) 262mm/265mm
■Tire(F/R) Φ97mm ×40mm
■Gear Ratio 1st gear /10.14:1 2nd gear /7.49:1
■Weight 3,650g(approx. )
■Engine KE25SP
■Transmitter Syncro KT-331P
●Pre-assembled chassis installed with 2-ch, 2-servo R/C system and pre-set control linkages
●Pre-painted factory assembled body with decals applied
●Installed KE25SP rear exhaust engine
●Installed polished tuned muffler
●Syncro KT-331P transmitter
●Hex wrenches: 1.5, 2.0, 2.5, 3.0mm
●Cross wrench (large)
●17mm wheel wrench
●Nylon strap (for air cleaner)
●Break in ring
●Bind code
●8 x AA batteries for transmitter (4) and receiver (4)
●Fuel
●Engine starting tools (fuel bottle, plug heater)