1/10 EP 4WD FAZER Mk2 FZ02-D 2005 Ford Mustang GT-R Color Type1 34472T1
Enjoy thrilling drift driving with Ford Mustang GT-R in innovative coloring!
●It will be a completed printed body with a flashy Kyosho original coloring on the Ford Mustang, which is a classic American pony car.
●Adopting a rear wing stay whose angle can be adjusted by screw holes, and raising the wing position, it has transformed into a more flashy impression.
●In the initial setting, the vehicle height is raised so that troubles due to gaps can be avoided.
●Factory-assembled Readyset package only requires 4 x AA alkaline batteries for the transmitter, and battery with charger for the chassis.
●Full ball bearings that reduce drive loss equipped throughout the drive system.
●Features KS202W waterproof steering servo.
●Sealed differential and transmission deliver reliable performance, even on dusty parking lot surfaces.
●Shaft drive full-time 4WD touring chassis.
●Equipped with a plated dummy brake disc and a painted brake caliper to improve the sense of scale.
●Uses button screws with hexagonal holes in each part. Reliable tightening torque can be applied, and maintenance is possible with even fewer tools.
●Since the motor mount has mounting holes according to the pinion gear, troublesome backlash adjustment is unnecessary. Supports from 29T to 37T.
●Performance can be further enhanced by installing various optional parts.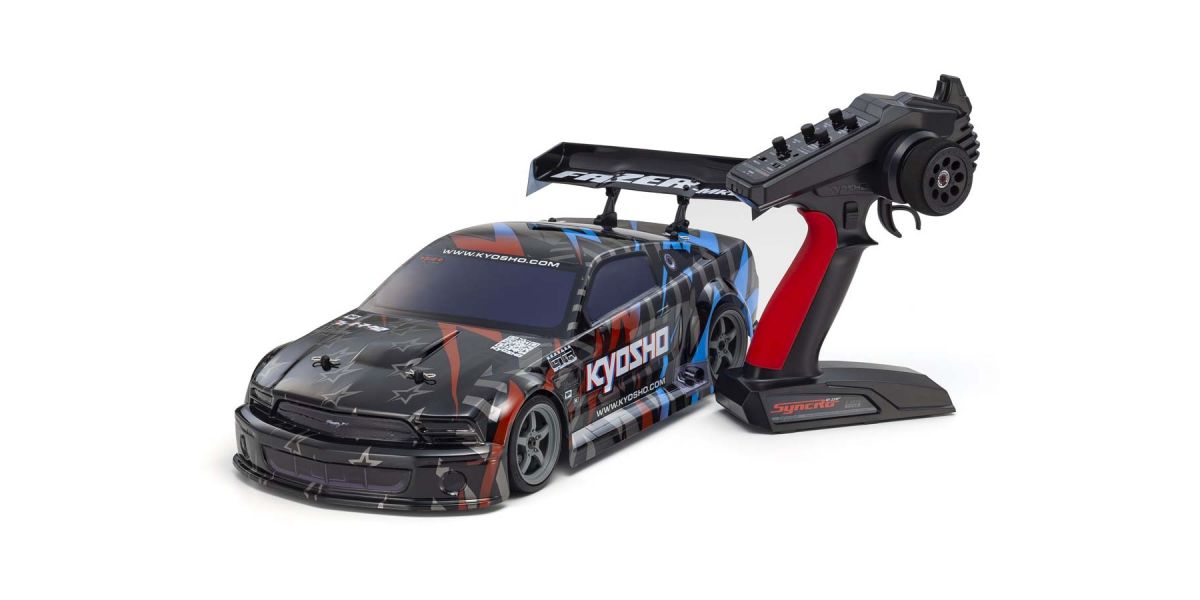 Ford celebrates a commemorative milestone for its famous high-powered Mustang with this 40th Anniversary model featuring a 5.0 liter V8 engine producing 440 horsepower that drives wider tires. Body style matches the formidable power with over fenders and a high-performance large wing.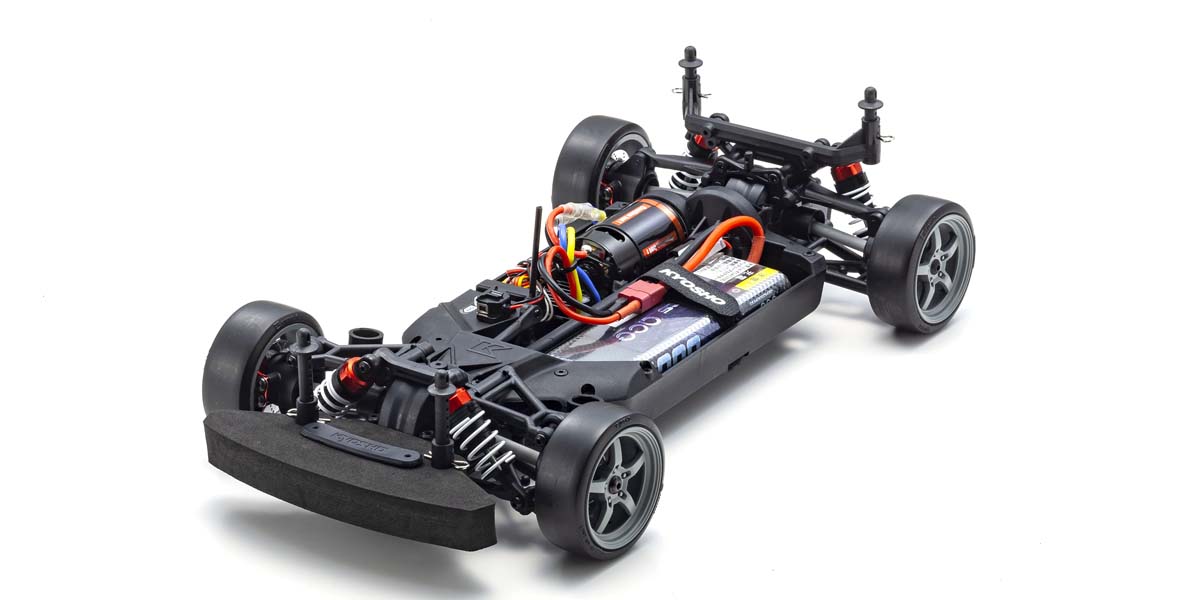 Completely new chassis realizes low center of gravity with its simple, functional design. Featuring an integrated gearbox that optimizes torsional rigidity of the main chassis, the nylon material reduces weight while improving impact resistance. Each key component has been reinforced in this simple design without upper deck.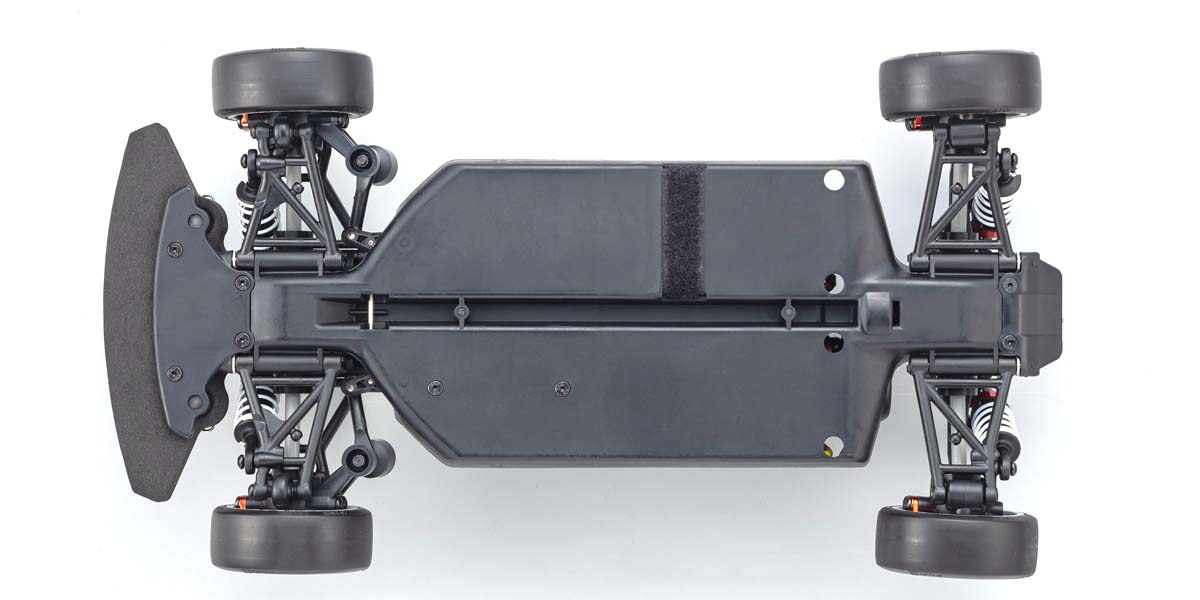 Features a reduced number and variety of screws and parts, and consolidation of frequently used screws into the same size. Most screws are flat head screws that can be removed with a 2.0mm hex wrench for easy disassembly.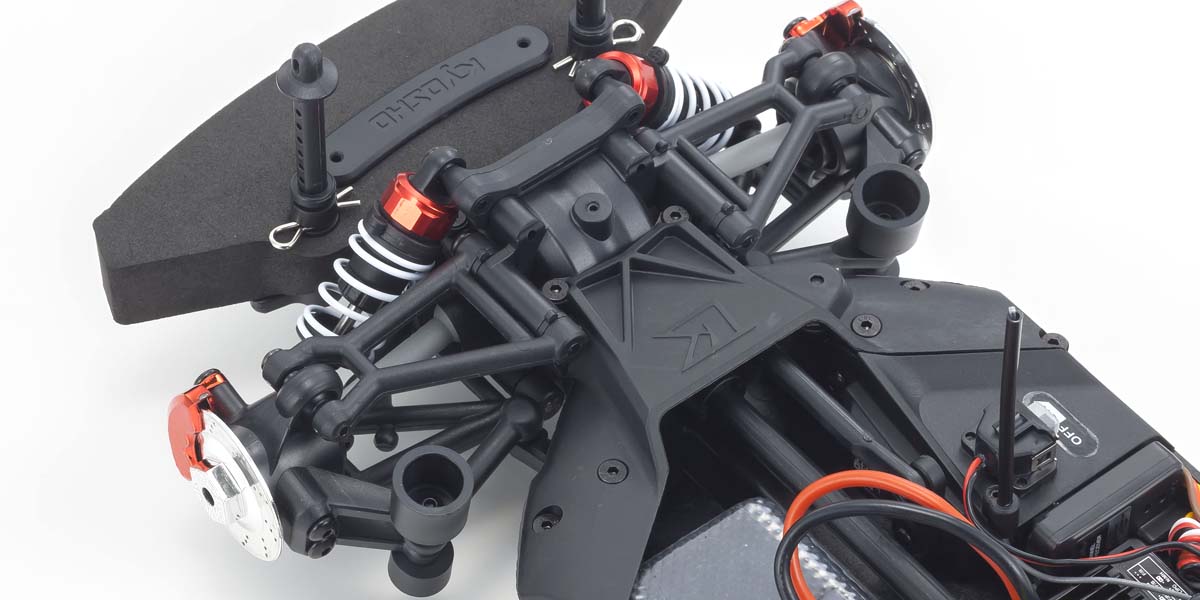 Handling factors such as bump steer and scrub radius are optimized on front suspension. Simple ball-connected steering knuckle promises reliable control movement. Interchangeable on both front and rear left-right hub carriers optimize spare parts utilization and improve maintenance efficiency.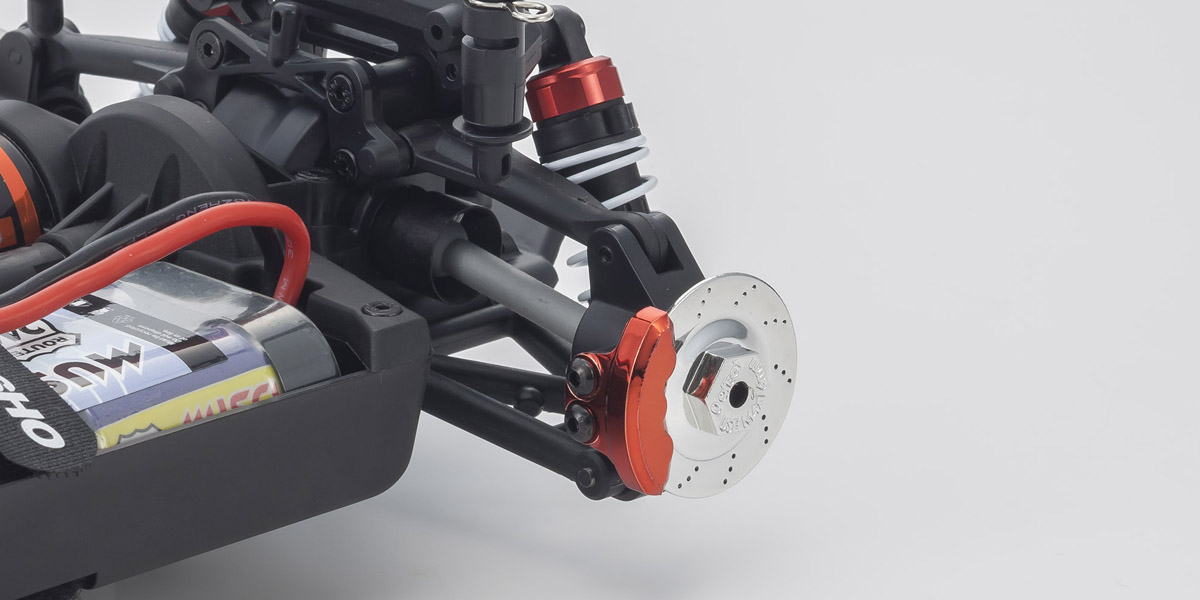 Includes choice of two offset brake disc wheel hubs with dummy calipers (for visual styling) that provide compatibility with 190mm and 200mm body widths.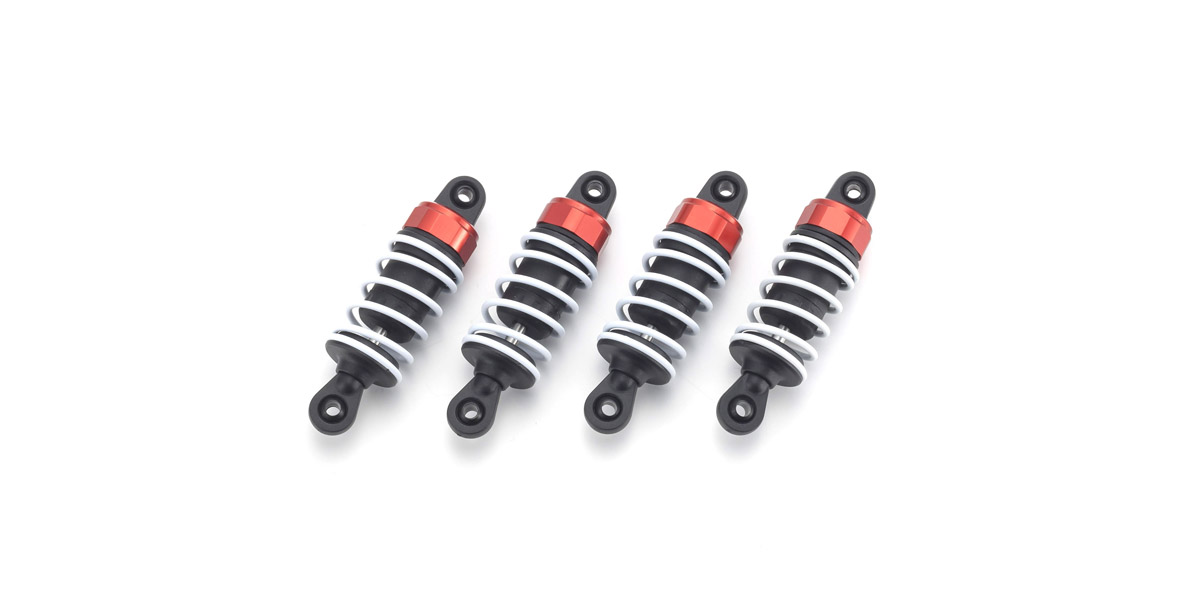 Equipped with an oil shocks as standard equipment. Change the vehicle height by changing the length of the damper end according to the vehicle type.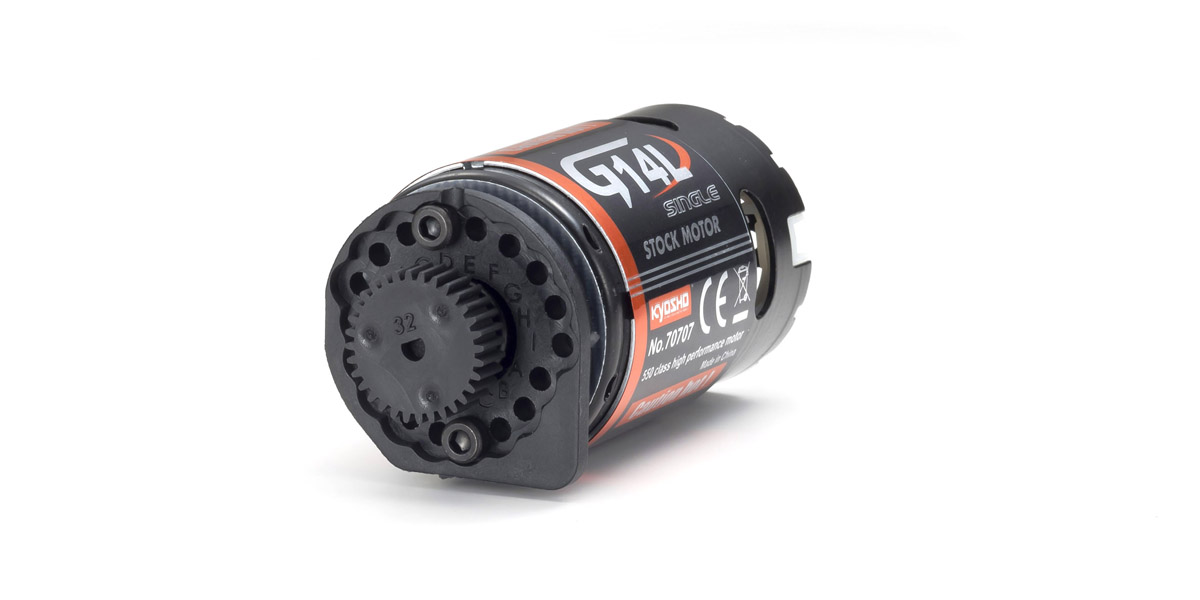 Standard spur and pinion gear setting is 68T and 32T, but 9 pinion gear settings can be used from 29T – 37T to produce a wide range of gear ratio settings. The new fixed gear mesh motor mount has holes for use with each different pinion gears. Just simply mount the motor directly to the hole locations corresponding to the pinion gear. No gear mesh adjustment is necessary.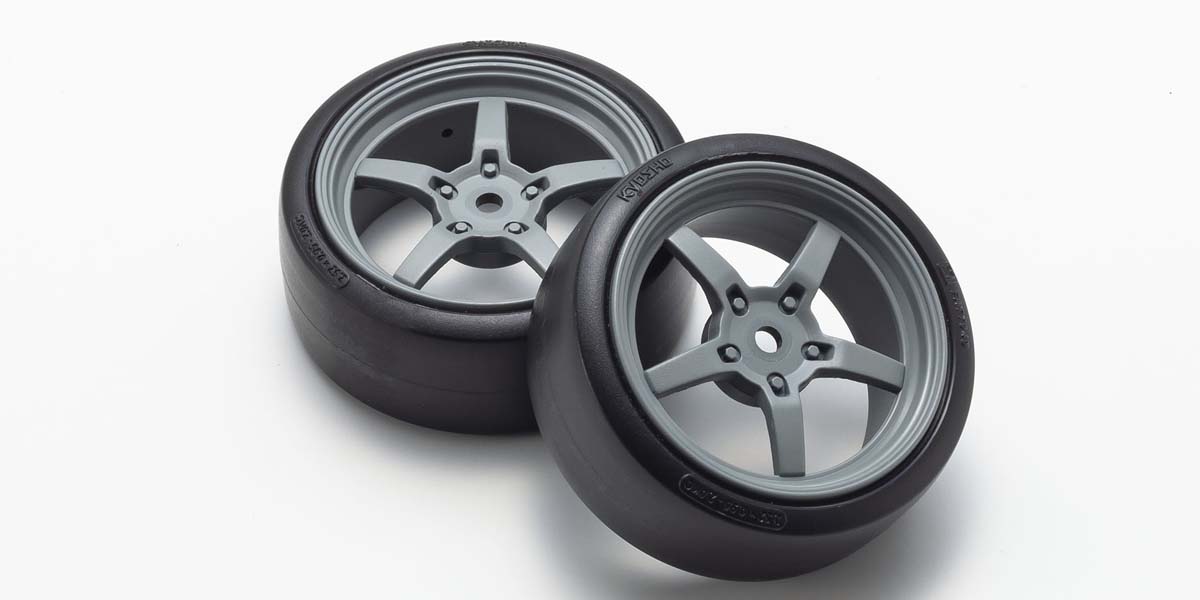 The resin drift tires that have both control performance and slide performance are equipped with 5-spoke racing wheels with deep rims that are conscious of the drift scene.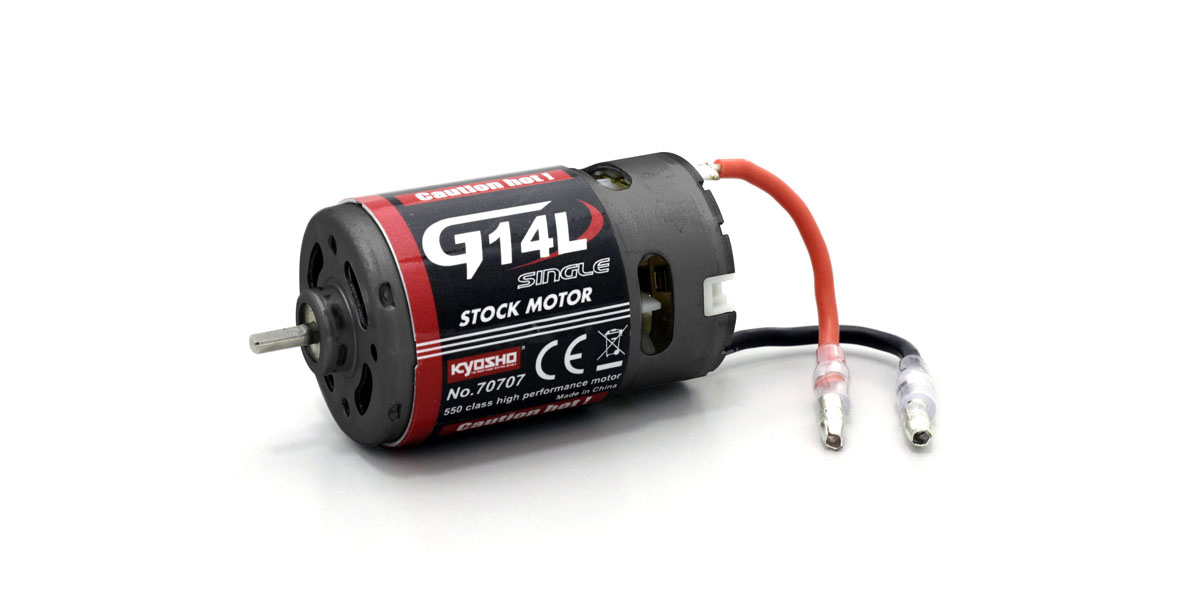 Comes with the new powerful 550 size 14T brushed motor(G14L). The long can with Steel ring around the motor case and internal cooling fan provides efficient torque and high speeds.
■Length 455mm
■Width(Body width) 200mm(210mm)
■Height 120mm
■Wheelbase 260mm
■Tread (F/R):174mm
■Tires (F/R):φ63.2×24.2mm
■Gear Ratio 6.54:1
■Weight 1650g(approx.)
■Syncro KT-231P+ transmitter
■Motor G14L

●Completed chassis with R/C radio installed
●Factory assembled body complete with color scheme
●Syncro KT-231P+ transmitter
●Hexagonal wrench
●Spanner
● Setting change parts

●4 x AA batteries for transmitter
●Battery for chassis (recommended: 7.2V Ni-MH battery)
●Charger for battery for chassis
●Tools