INFERNO GT3 1/8 GP 4WD CHASSIS KIT 33010B
Full model change based on the Inferno TKI4! New generation package challenges all current and future rivals
With realistic roll and movement as well as being easier to drive than 1/10 touring cars or 1/8 racing cars, the 1/8 GT category has developed a popular following around the world. As an established GP on-road racing category, specifications adhere to the regulations set by IFMAR (International Federation of Model Auto Racing). This Inferno GT3 chassis kit is the ideal model to compete in the 1/8 GT racing category. Based on Kyosho's flagship model, the Inferno MP9 TKI4 1/8 GP buggy, the GT3 represents a full model change from the previous Inferno GT2 version. Advanced specifications deliver increased racing performance through: improved surface tracing realized from newly designed short Big Bore Shocks and machine cut Duralumin shock stay; improved throttle response with a lighter diff; improved maneuverability from ideal weight distribution; secure high-grip road feel through optimal chassis rigidity; strong braking performance effectively bringing the weight of the moving chassis to a stop, and the essential durability and reliability needed by competition racers over long periods. The GT3 is fully equipped to compete and win under the most intense racing pressure and is the fastest road to racing glory.
Pure racing chassis kit based on Inferno MP9 TKI4, designed for circuit racing.
Significantly lighter diff than the GT2 realizes improved throttle response.
Short Big Bore Shocks and shock springs based on buggy version design.
High-rigidity shock stay realizes full performance of oil shocks.
New type large urethane bumper increases crash resistance.
Choice of forward and rear mounting positions available for body mounting post. Bodies for GT2 can also be mounted.
Includes the proven 2-speed unit with clutch shoes from the GT2.
Gun metallic aluminum parts enhance the GT3's formidable style.
Standard and optional parts for the MP9 can be installed to further increase performance.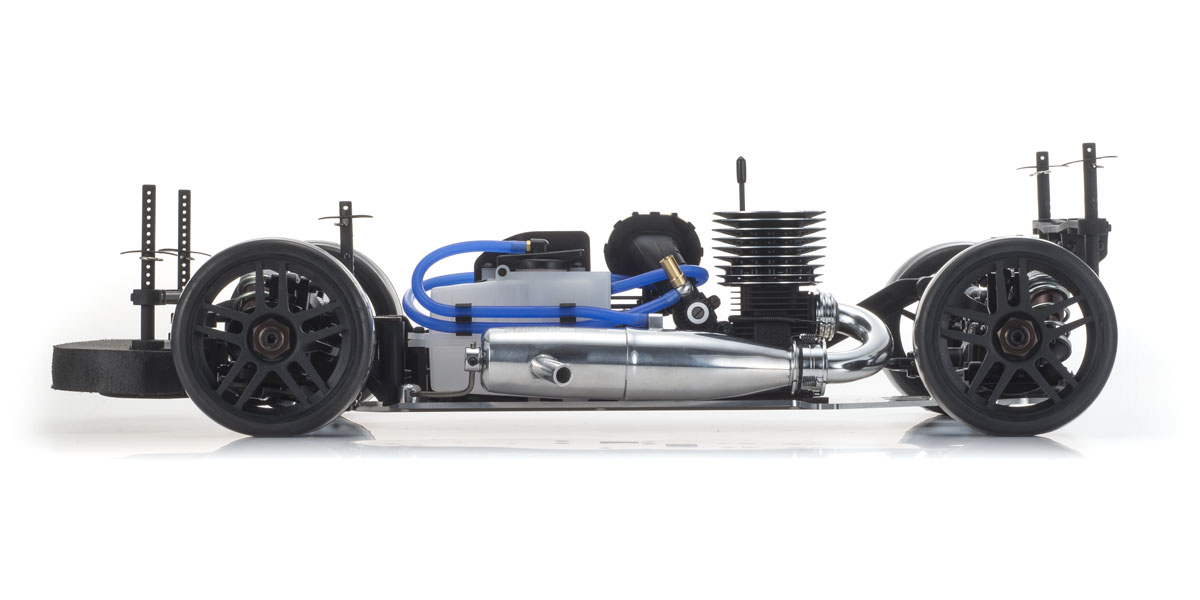 Developed with long wheelbase for superior running stability. Modifications to each section realize turning performance equal to short wheelbase cars.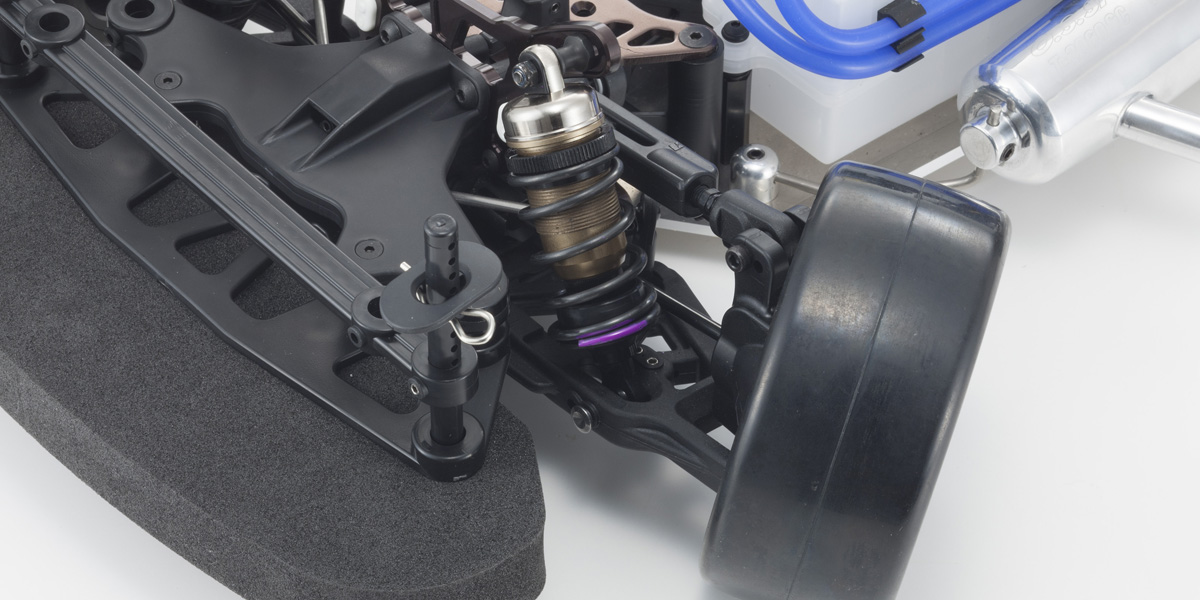 Equipped with newly designed short oil shocks and shock springs based on buggy shocks. Larger capacity compared to the GT2 delivers vastly improved surface tracing.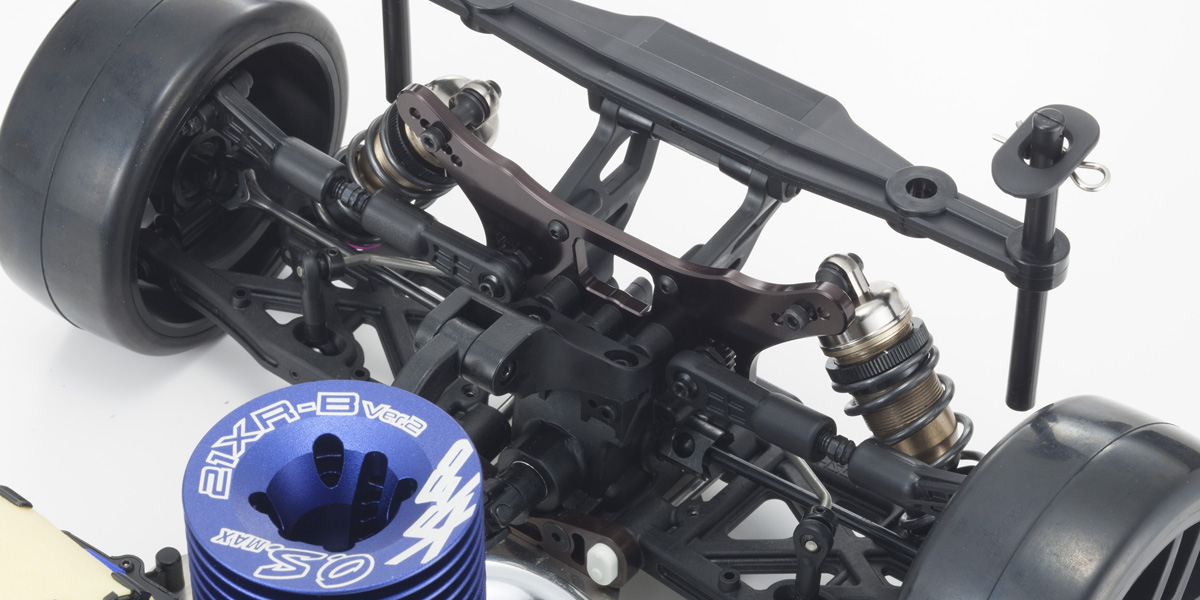 Machine cut high-rigidity Duralumin shock stay combines perfectly with the newly designed oil shocks to realize reliable shock function.
New wider body mount positions have been added to better support the body. Current body mount positions are still available to suit the current Inferno GT2 bodies. Additional front center body mount has been added behind the front shock tower to create the ultimate body support.
■Length 537mm
■Width 310mm
■Height 116mm(without engine、body post)
■Wheelbase 359mm
■Tread (F/R) 262mm/266mm
■Tires(F/R) Sold separately (rubber tires for 1/8)
■Gear Ratio 1st speed 10.87: 1 / 2nd speed 7.90:1
■Weight 3,270g approx.
■Engine 21 class rear exhaust engine

●Unassembled kit set
●1.5, 2.0, 2.5, 3.0mm L-shape hex wrench
●Wheel wrench (17mm)

●2-3 channel R/C system for cars
●Servo x 2 for cars
●Battery for receiver (stacked)
●21 size engine with rear exhaust
●Manifold and muffler
●Glow fuel for models
●Starting tools (plug heater, fuel bottle, starter box)
●Body
●Paint for body
●Rubber tires
●Wheels
●Tire inners
●Silicone oil (diff, shocks)
●Various tools, instant glue